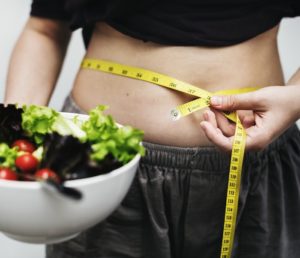 Can I be painfully honest with you for a moment?
Study by Penn State College of Medicine shows, among Americans who have ever been overweight or obese, only 1 in every 6 of them loses weight and maintains that loss.
Yes, permanent body slimming is a real challenge.
Considering majority of the people are unable to shed pounds and keep them off, those who have the wish to lose 100 pounds in 6 months can seem a far-fetched goal.
Not really, it is indeed achievable.



How to Lose 100 pounds in 6 Months: Tips & Success Stories
There are research findings and lifestyle changes – recommended by experts and people with remarkable weight loss success – that can help you stay on the path toward a healthier body.
And don't worry, not all weight loss journeys are as physically demanding as the path of these folks who worked with celebrity Kim Kardashian's personal trainer Melissa Alcantara:




You have many options to lose 100 pounds in 6 months, and here is how you can make it happen:


#1: Supercharge Your Motivation and Keep It Throughout
The brutal truth is, even we know what to do to lose weight, it can be hard to actually DO it.
Weight loss is as much about mindset as it is committing to a diet plan and exercise regimen.
You may feel the motivation right now, but how do you maintain it throughout the 6 months?


Here are 5 useful tips to keep you stay motivated and gear your weight loss journey for success.
To bridge some of these ideas into the context of this post –
Target to "lose 100 pounds in 6 months" is a specific, measurable, and time bounded goal. Great!
While you need to assess if this goal is attainable and realistic to you, maintaining weight loss motivation is a crucial aspect in starting and sustaining a fit and healthy lifestyle.
There are many different types of motivation that people engage in, so it's important to find out what really motivates you, as convincing your mind is half the battle with weight loss motivation.


For Christina Castro, one of her motivation and driving force is HealthyWage challenge.
The HealthyWage weight loss challenges pay to lose weight. You bet on meeting your own personal weight goal — and when you succeed, you win cash rewards.
Such financial incentive is a scientifically-proven weight loss motivation, as shown in these interesting research findings and media coverage of HealthyWage by CNN / Fox-News etc.


Weighed 296 Pounds, Christina bet $50 per month for 6 months that she could lose 80 pounds.
Christina crushed her goal, lost 84 pounds in 6 months and won $1,191!
Check out her inspiring story and before and after results in the video below.



Here's How HealthyWage Works:
1. Visit HealthyWage Website and play around with the prize calculator by entering info like how many pounds you want to lose, how long you'll take to reach your goal, how much you want to bet. The prize calculator will indicate how much you could earn based on your input.
2. Sign up and put monthly bet amount for the duration of weight loss challenge. For example: Lose 100 pounds in 6 months with a monthly bet of $30.
3. Start losing your weight.
4. Meet your personal weight loss goal and win your cash rewards.


And for Jasmine who always cried in her closet because nothing fit or looked good, made the change to lose 100lbs in 8 months – but she did not do it alone.
Jasmine and her husband lost weight together by setting up "couple goals" as new year resolution, reached their goals with amazing body transformation and made it their mission to inspire others.
Lovely!
This is another great idea, as research by American Psychological Association and University of Illinois show social support from family and friends can help you to lose weight.



A few weeks into the weight loss journey, many people's motivation begins to drop for varying reasons. Maybe you get bored with clean eating, or you feel frustrated and defeated after hitting a plateau in your weight loss. A few slip-ups and you can be derailed, physically and emotionally.
So find your real motivation to strengthen your determination. If someone is dependent on you, then you can use that as motivation whenever things get hard.
Where there is a will, there's a way.



#2: Not Just What You Eat, but When and How You Eat.
The "Healthy Weight Loss = 80% Nutrition + 20% Exercise" rule has been backed by science and should be adhered to, if healthy and sustainable weight loss is your goal.
While what you eat and how much you eat play central roles in shedding pounds and maintaining a healthy weight —
There is no one single perfect diet or weightloss plan for everyone, as every individual has their own food preferences and lifestyle.
Some may prefer to lose pounds in a healthy way by cleaning out poor food choices and replace them with Mediterranean meal plan without overly restrictive diets.
Some people take dietary supplement pills as additional weight loss aids.
And some took the extreme path by trying out insanely unhealthy diet to slim down quickly.


If you want fast weight loss results:
You can check out >> this natural solution – currently available at limited time free trial.