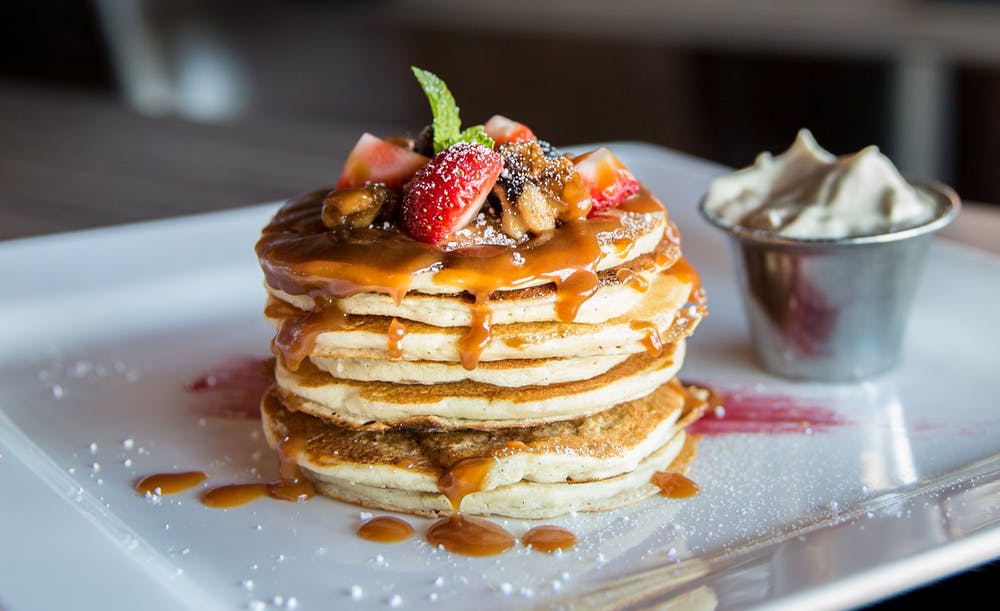 Interested in high protein meals but find them too hard to prepare?
Unless you plan on eating steak every day, finding enough protein can be a challenge.
One healthy and easy way to start your day is whey protein pancake.
This popular high protein breakfast can get body ready for the day ahead, and help you to more easily achieve daily protein intake goals.


We've curated 23 delicious whey protein pancakes recipe with step by step demo videos, including recommendation from fitness experts like Sadik Hadzovic, Zac Perna, and Katie Corio.
Get inspired to prepare protein-packed pancakes that keep you fueled until lunch!



What Is Whey Protein and Its Key Benefits?
According to MedicalNewsToday:
Milk is made of two proteins, casein and whey. Whey protein can be separated from the casein in milk or formed as a by-product of cheese making. Whey protein is considered a complete protein as it contains all 9 essential amino acids. It is low in lactose content.

Whey protein provides substantial amounts of the essential amino acids that can be absorbed quickly to keep our body functioning.
While many athletes and bodybuilders commonly take whey protein powder as a supplement to improve athletic performance while increase lean muscle mass and muscle strength —
extensive studies revealed by US National Library of Medicine and Research Gate etc show whey protein powder can also help weight loss and appetite control.



Recommended Read: How To Lose 100 Pounds in 6 Months? Success Stories Revealed


So why not use this powerful source of protein to make healthy and yummy pancakes?
Watch the demo videos below for step by step guide on how to make whey protein pancakes.
And feel free to get creative with these delicious recipes and adapt them to suit your taste!



#1: Simple Whey Protein Pancakes Recipe by Sadik Hadzovic
Fitness model Sadik Hadzovic demonstrated how to make a simple whey protein pancake with the following 4 ingredients recipe:
Whey protein powder (1/2 scoop)
Oats (1/4 cup)
Cottage cheese (1/4 cup); This ingredient is among the 49 high protein food list
Egg whites (1/2 cup)
#2: Low Carb, Low Fat, High Protein Pancake by Katie Corio
American fitness model Katie Corio shared her high protein pancake recipe in this video:
Pancake mix (1/2 cup)
Whey protein powder (1/2 cup)
Egg whites (1/2 cup)
Chocolate chips (1TB)
dash of cinnamon, baking powder, and vanilla extract.
After mixed the ingredients, cook with low heat, flip the pancake when it starts to form bubbles, and then top it with whatever you want (eg. strawberries, blueberries, syrup, etc)!





#3: Easy 3 Ingredients Protein Pancake by Kayleigh Swenson
LA model Kayleigh Swenson shares the recipe of her 3 ingredients protein pancakes:
Egg Whites (2/3 cup)
Banana (2/3)
Protein powder (1 scoop)
Kayleigh used the peanut butter flavor Quest Nutrition protein powder in this video, and you can replace this with whey protein powder that you like.
Other stuff that she used include non-stick coconut oil cooking spray and sugar free syrup.





#4: Low Calories Vanilla Protein Pancake by Zac Perna
This is the vanilla whey protein pancake recipe of Zac Perna, who was once a member of Australian Sports Nutrition team:
Vanilla Whey protein powder (1/2 scoop)
1 whole egg and 2 egg whites
Cottage cheese (1 Tsp, 50 grams)
Baking powder (1/2 Tsp)
Stevia (1 Tsp)
#5: High Protein Pancake Recipe by Scott Herman
Scott Herman, fitness model and social media celebrity from Massachusetts, shared how to make pancake with 55 grams of protein with this recipe:
BSN Syntha-6 isolate protein powder vanilla flavor (1 scoop)
Raw oatmeal (1/4 cup)
1 whole Jumbo egg
Egg whites from 1 Jumbo egg
Liquid egg whites (3 Tbsp)
Plain fat-free Greek yogurt (1/2 cup)
Strawberries
Sugar free syrup or Wholesome organic blue agave
In this video, Scott's wife Erica also explained why their pancake recipe includes different types of egg whites (eg. real egg whites from Jumbo egg and liquid egg whites).
Looked delicious!



#6: Rob Lipsett's Vanilla Protein Pancake with 8 Ingredients
Irish fitness trainer Rob Lipsett shared his tips on how to make whey protein pancakes.
As shown in the video below, his 'perfect' protein pancake recipe contains 8 ingredients:
Whey protein powder (1 scoop), vanilla or other flavors.
2 Eggs
1 Banana
Oats (50 grams)
Low-fat yogurt (50 grams)
Crunchy protein peanut butter (20 grams)
a bit of salt and cinnamon
#7: Bodybuilding Protein Pancakes Recipe by Michael Kory
Bodybuilding pancake recipe recommended by fitness expert Michael Kory:
Almond milk (1/4 cup)
1 Whole Egg
1 Egg whites
Oats (1 cup)
Protein powder (1 scoop)
Baking powder (1 TSP)
Sweetener (1 TSP)
Pinch of salt
Dash of Cinnamon
#8: High Protein Low Carb Pancake Recipe by Kara Corey
Kara Corey, a registered dietitian and qualified WNBF Bikini Pro, shared her favorite high protein pancake recipe:
Egg whites (from 6 eggs)
Protein powder (1 scoop)
2 tbs Splenda or sweetener of your choice
1 to 2 tbs Almond milk or milk of your choice
Dash of Cinnamon
As shown in the video, pour the mixture onto hot frying pan and cover for a couple minutes; Once the bottom of the pancake is firm and brown, flip it and cook on other side until done.





#9: Low Carb Whey Protein Pancake for Body Building
Joe Duff, 'The Diet Chef', has ~15 years of experience in making protein pancake.
He shared his tips on how to make a low carb whey protein pancake using these ingredients:
Vanilla Whey protein powder (1 Scoop, 30g)
6 Egg Whites (210g)
Cottage Cheese (1 Cup) with low 1% fat
Coconut Flour (6 Tbsps, 42g); Joe recommended the brand Bob's Red Mill in this video.
Vanilla Extract (1 Tsp)
Baking Powder (1 Tsp) <-- this is Joe's secret ingredient
#10: Chocolate Peanut Butter Pancake by Gabriel Sey
Gabriel Sey, champion natural bodybuilder/powerlifter and qualified personal trainer, was inspired by Chris Jones and came out with this high protein pancake recipe:
Oats (40g)
1 Egg white
20g Whey (Choco Peanut butter) powder
1 Banana
Almond Milk (30ml)
Peanut butter (15g)
Nutella (7.5g)
Cinnamon
#11: Simple 3 Ingredients Chocolate Whey Protein Pancake
Check out the funny video below by body builder Buff Dudes on how he made high protein pancake with the following ingredients:
Chocolate flavor whey protein powder (1 scoop)
2 Eggs
Fat free Milk (1/2 cup)
Optional ingredients: Cinnamon, Greek yogurt, banana, blueberries,Casein protein powder.





#12: Gold Standard Chocolate Whey Pancake Recipe
Chocolate whey pancake recipe recommended by Mai contains the followings:
Optimum Nutrition's Gold Standard Chocolate Whey protein powder (1 scoop)
Cocoa powder (2 TSP)
Baking powder (2 TSP)
Eggs (2)
Oats (80 grams)
Greek yogurt (100 grams)
1 Banana
Berries
#13: Chocolate Banana Protein Pancakes Recipe by Dr Axe!
Dr. Josh Axe is a well known doctor of natural medicine and clinical nutritionist.
He shared the following healthy chocolate banana protein pancakes recipe in this video:
Chocolate whey protein (2 scoops)
2 eggs
1 banana
Pancake flour (2 TBSP)
Chia seeds (2 TBSP)
Baking powder (1/2 TSP)
Almond milk (4 TBSP)
#14: Chocolate Protein Pancakes Recipe by a Nutritionist
A high protein pancake recipe by Nutritionist Rhiannon Lambert:
1 small banana
chocolate protein powder (20g)
Milk of choice (140ml)
Buckwheat flour (20g)
100% unsweetened cocoa powder or raw cacao powder (1 TBSP)
Baking powder (1 TSP)
Olive or coconut oil for frying
Optional: 1 medium egg (omit for vegan pancakes), 1 TSP honey.
Great as breakfast to keep you feeling full and satisfied!





#15: Healthy High Protein and Low Carb Chocolate Pancake
Recipe by nutritionist Lyn Green of F45 Challenge:
1 Full Egg
Egg whites (60ml)
Whey Chocolate protein powder (60 grams)
Stevia (1/2 TSP)
Baking soda (1/2 TSP)
Almond flour (3 TBSP)
Coconut oil (1 TBSP) for heating the pan
Toppings: Greek yogurt (2 TBSP), crush peanuts (1 TSP), cacao nibs (1 TSP)
#16: Microwave Peanut Butter Chocolate Protein Pancake
Taylor Kiser shows you how to make protein pancake with microwave and the following ingredients:
Powdered peanut butter or peanut flour (1/4 cup)
Vanilla protein powder (2 TBSP)
Trivia (1 TBSP)
1 Egg white
Plain fat-free Greek yogurt (2 TBSP)
Vanilla extract (1/4 TSP)
Apple cider vinegar (3/4 TSP)
Mini chocolate chips (1/2 TSP)
Dash of cinnamon, salt, baking powder
#17: Chocolate Peanut Butter Cup Protein Pancakes Recipe
An interesting chocolate peanut butter pancake, looked yummy!
1 banana
Chocolate whey protein (1 scoop)
Ultra fine oats (1 tbsp)
Egg whites (1/6 cup)
Almond milk (1/6 cup)
Baking powder (1/2 tsp)
Cacao powder (1 tbsp)
Coconut oil to cook
Toppings: peanut butter, cacao nibs, coconut, zero calorie syrup
#18: High Protein 4 Ingredients KETO Pancake
Keto diet is getting popular nowadays.
Check out this high protein and high fat ketogenic diet recipe recommended by Remington James:
Cream Cheese (4 oz / 112 grams)
Grass-fed Butter (1 oz / 28 grams)
4 Large Eggs
Whey protein powder (1 scoop)
#19: Gluten-Free and Flour-Free VEGAN Protein Pancakes
Talia Pollock shares this vegan protein pancakes recipe without eggs — give it a try!
Banana (1/2)
Ground Flax Seed (1 TBSP)
Almond Milk (2 TBSP)
Sunwarrior Classic protein (1 scoop) or whey protein powder
Cinnamon (1/4 TSP)
Baking powder (1 TSP)
Rolled Oats (1/2 cup)
Stevia or maple syrup (1 TBSP)
#20: EGGLESS Protein Pancakes Recipe
If you do not want egg in your protein pancake, here is another eggless recipe and video by Surabhi Shukla:
Oats (1 cup)
Powdered seed and Nuts Mix (2 TBSP)
1 Banana
Baking soda (1/2 TSP)
Baking powder (1 TSP)
Vanilla essence (1 TSP)
protein powder (1/2 scoop)
Trim milk (1 cup)
Butter
Plain unsweetened yoghurt
Blueberries and Strawberries
#21: Pumpkin Spice Protein Pancakes
Pumpkin-spice-infused pancakes made with the following recipe contains guilt-free 4 grams of protein per serving:
Vanilla Whey protein (2 scoops)
Oat flour (1 cup)
Egg whites (4)
unsweetened Almond milk (1 cup)
Pumpkin puree (1/2 cup)
Baking powder (1 TBSP)
Sweetener (2 TBSP)
Allspice (1/4 TSP)
Cinnamon (1 TBSP)
Nutmeg (1/4 TSP)
Salt (1/2 TSP)
#22: Want To Make Protein Pancakes in Under 5 Minutes?
Watch Jacob McDonald made pancakes within 5 minutes by using the following ingredients:
Weet-Bix biscuit (1 piece)
Egg whites (250ml)
1 banana
Whey Protein Powder (1 scoop)
Baking powder (1 tsp)
Are you ready for this 5-Minutes Pancake Challenge?





#23: Pancakes Recipe with 26 Grams of Protein
UK-based Warren Nash recommends to try this pancake recipe, especially for post-workout:
Whey concentrate protein powder (1 scoop)
1 Banana
1 Egg
Baking powder (1 TSP)
Milk
Like this post? Then please Share it!