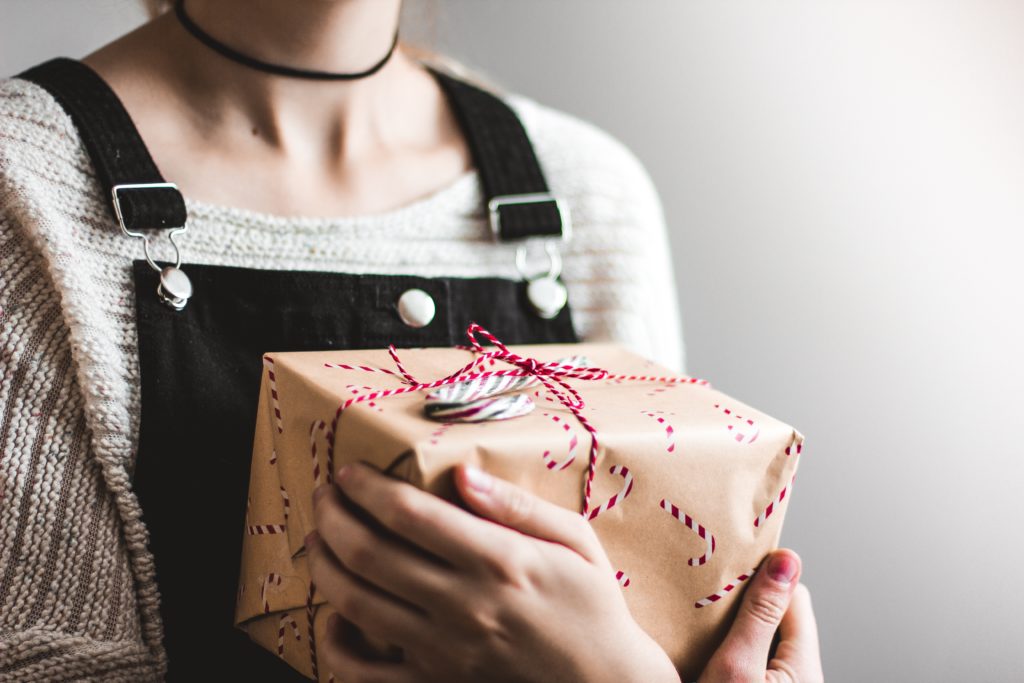 Deep down, you know it's true:
Cancer patients have a wide variety of physical and emotional needs.
According to American Cancer Society, treatment for breast cancer usually includes surgery and radiation therapy, often along with chemotherapy either before or after surgery.
If you have someone who has breast cancer and you want to show her you care –
Here is a hand-picked selection of 17 thoughtful breast cancer care package gift items that she would appreciate, including the reasons of why these items are helpful and recommended by people who have gone through the journey.
Don't forget to share these practical and heartfelt gift ideas to help out others!



#1: Breast Cancer Surgery Recovery Robe
Recovery garments designed to meet the special clothing needs of breast cancer patient after surgery, as mastectomy and lumpectomy procedure can really impact their daily tasks, particularly getting dressed.
This unique clothing is made to be worn before, during and after surgery.
As testified by these actual user reviews, recovery garment with bra and robe combination is a thoughtful gift for breast cancer patients to make their recovery more comfortable and bearable.
This garment is designed with pockets to hold post-operative drains and ice packs, a front-closure bra, and other designs that help the breast cancer patient during treatment and post-surgery recovery.
Watch the video below to learn more, and check price here





#2: Practical Post-Surgery Shower Pockets
After surgery, surgeon may put one end of a soft plastic tube into the surgical area, in order to drain out fluid that then moves into plastic collection bulb attached to the other end of tube.
The purpose of such surgical drain is to prevent fluid buildup, which can result in painful pressure and delay healing post-surgery.
One of the most difficult challenge of having surgical drains is managing both the tubes and the drainage collection ports, as she can feel clumsy and risk accidentally pulling out a drain.
So having a special drain management garment, such as the breast cancer surgery recovery robe recommended earlier, can be a lifesaver.
Else, these specially designed shower pockets that hold post-surgery drain can help her to shower without needing help from someone else.




#3: Drainage Pouch Holders For Day and Night Wear
The Helping Hands Dry Drain Pouch designed by Heal in Comfort is for usage during shower and the rest of the time. Its 2 pocket compartments allow her to put post-surgical drains and other items (such as cell phone).
Another good alternative is this Post-Surgical Drain solution with adjustable cotton waist belt and shower bag, to be worn during the recovery period of breast cancer surgery.



#4: Soft Seatbelt Cushion for Mastectomy
This will make the car rides more comfortable for breast cancer patient that has gone through surgery, by avoiding the pain often caused by normal seat belt on post-surgery area.



#5: Soft Comforting Pillow
Heart-shaped Axilla pilla microbead pillow is a lovely gift idea for post-op patients, to help relieve underarm pressure during recovery.




#6: Healing Thoughts Weighted Blanket
A weighted blanket to snuggle in not only can keep warm, but it can bring mental calmness by reducing her anxiety before and after breast surgery.
BlankieGram Healing Thoughts blanket is a top rated option, as evident by its countless excellent user reviews that cancer patients simply love it. Superior quality and unique design decorated with inspiring messages on the blanket are key factors that make it stand out.



#7: Inspirational Book Authored by Cancer Survivors
Cancer patient may look for books that offer inspiration, hope, encouragement, and guidance.
Choose a book with uplifting cancer survival stories, and make sure it's free from anything too heavy with sad or depressing contents.



#8: Shirt with Funny Messages
Laughter is the best medicine!
Consider funny gift to cheer up cancer patient with a sense of humor. For example:
When she receives this funny shirt for breast cancer survivor, expect to see her laughing face!
Make sure that your best intentions will not unintentionally make her feel worse with a funny gift.



#9: Mood Lifting 10,000 Lux Light Therapy Lamp
While breast surgery and cancer treatment itself can greatly affect a patient emotionally —
JAMA Psychiatry medical journal revealed a study that shows 10,000-Lux light therapy can improve depression.
This research finding is further supported by most users of Verilux HappyLight lamp that mimics sunlight and brings UV-free daylight indoors with a light intensity of 10,000 Lux.
This can help improve the mood of breast cancer patient and help her sleep better.



#10: Small Boxing Glove Jewellery with Pink Ribbon
Pink ribbon is the international symbol of breast cancer awareness.
Many people find these small jewellery are inspiring, as the great design of this inexpensive gift motivates the patient to continue FIGHT against breast cancer.
Available in many design, including pendant necklace, earrings, stud, and dangle.




#11: Cancer-Fighting Recipe Cookbook
Healthy eating diets are critical for any cancer patient / survivor, but nutrition in cancer care can be challenging.
Choosing healthy food is not the only important factor in fighting cancer, as how she prepares and cook the food also matters.
So cookbook with great cancer-fighting recipes is a good gift idea, especially if she loves to cook.



According to Mayo Clinic and WebMD –
The 3 key purposes of radiation therapy and chemotherapy in breast cancer treatment are to shrink a tumor before surgery to make it easier to remove, to prevent cancer from coming back after surgery, and to kill cancerous cells that have spread to other parts of the body.
However, as radiation therapy and chemo destroy cancer cells, they also damage healthy blood cells and lead to undesired side effects to the body.


To help improve the breast cancer patient's quality of life during treatment, there are useful products that ease the side effects of chemo and radiation therapy, based on recommendations from healthcare professionals and cancer patients who have been there before.
Consider the following items as part of your breast cancer care package:



#12: Oral Rinse To Relieve Mouth Sores and Dry Mouth
Dry mouth, mouth sores, infection in the mouth and throat, ulcers, and metallic taste are common side effects for patients receiving cancer treatment.
Alcohol-free and sugar-free mouth rinse by Prevention Oncology and Biotene can help to soothe oral tissues, ease mouth sores and sensitivities.
Spry moisturizing oral spray with Xylitol is a good alternative to help stimulate saliva and inhibit bacterial growth in the patient's mouth.




#13: Anti-Nausea Candies and Wrist Band
Chemo and radiation therapy may cause nausea and vomiting as body tries to rid itself of toxins.
You can check out anti-nausea candies like Queasy Drops, or Sea-Band anti-nausea wrist band which works by using acupressure for natural nausea relief.



#14: TENS Device for Peripheral Neuropathy
Radiation therapy and chemo may cause damage to nerves can lead to neuropathic symptoms such as pain, tingling, and numbness in body areas like chest, back, hands, and feet.
Such neuropathy side effects may also include aching in the muscles and joints, headaches, and stomach pains that can last long after treatment ends.
Research published in U.S. National Library of Medicine shows Transcutaneous Electrical Nerve Stimulation (TENS) device is beneficial relieve cancer pain and Chemotherapy-induced peripheral neuropathy (CIPN).



#15: Active Hexose Correlated Compound (AHCC)
This natural mushroom extract is used in over 700 hospitals and clinics in Japan, mainly for cancer patients.
Extensive research show AHCC may significantly reduce the side effects caused by cancer treatment, with studies published in The Journal of Alternative and Complementary Medicine (study on breast cancer patients), World Journal of Clinical Oncology, and many more.
Watch the video below by Dr. Geovanni Espinosa, and >> Learn more about AHCC here.




#16: Specialty Skin Care Products for Cancer Patients
Chemo and radiation therapy can damage skin cells in a way that makes them dry, while other possible side effects affecting the skin include irritation, crack, rash, redness, itching, peeling, and sun sensitivity.

Recommended Read: Top Rated Skin Care Products for Radiotherapy and Chemo Patients

It is highly recommended to use moisturising lotion formulated for cancer patients who receive radiation therapy and chemotherapy. A top rated option is Jeans moisturizing cream.




#17: Chemo Scarves or Headwear For Hair Loss
Many chemotherapy drugs can cause hair loss (alopecia) by damaging the hair follicles, with patient may begin to lose hair within the first 2 weeks after chemo starts.
Having her hair fall out after chemotherapy is not going to be pleasant, but you can make it more enjoyable with a head wrap or chemo scarf that is going to help her feel fashionable and cute.
You can get her a variety of styles and options, like stylish chemo hats and pre-tied bandanas, so that she can switch back and forth as she likes. What seems as a small switch to you, could be a big one to her.




Do you have any breast cancer care package gift ideas? Please leave comments and Share!