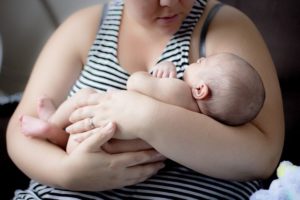 Deep down, you know it's true:
Postpartum weight gain does not feel good, and it can lead to low self-esteem or even depression.
While there is a saying that it's harder to lose baby weight the second time around than dropping those pregnancy pounds after your first kid —
reality is that it's so individual for every person, and each time is different than the one before.


Shedding postpartum pounds can be tough, with the process requires strong motivation, patience, and self-determination.
Here are 7 inspiring postpartum journey of losing weight after baby number 2, with these mothers also share their tips that worked for them to drop pounds successfully.
These stories can bring hope and courage when it's needed the most.
#1: How Ashley Got Her Body Back After Second Baby
Ashley shared her postpartum journey in the video below, including how she lost her "baby weight" after the birth of her second child.
She also shared a list of the tips and items that have helped her the most —
such as BarreAmped Workout and Belly Bandit.

#2: Amazing Postpartum Body Transformation after 2nd Kid
This is the second weight loss journey of MalinBjork.
It's hard work: Dead bug variations, gym exercise, healthy diets…
But she did have fun with her kid during workout in living room! (video time from 3:43 to 4:17)
Check out her postpartum body transformation after second kid, including the amazing before and after results.




Dedication and patience are key to losing postpartum baby weight and looking like your pre-baby self again, says WebMD.
If you want to lose weight but Lack Motivation —
Consider this popular weight loss challenge program and sign up if your doctor says it's okay.



#3: How Christa Lost Weight After 2nd Baby and C Section
Stay at home mom Christa had no issues in shedding pounds after her first baby —
but she gained lots of weight after her second baby and C section.
After much struggle, she discovered 5 ways that have helped her to achieve her weight loss goal after second baby.
She shared her 5 tips in the video below.



#4: Single Mother Shared Weight Loss Transformation Story
25-year-old, single mom Caroline, struggled with her weight after baby number two.
Her full story in video below.





#5: Blake Lively Lost 61 Pounds After Giving Birth
The actress told ET about her post-baby weight loss journey while attending Michael Kors fashion show during New York Fashion Week.

Recommended Read:
5 Easy Steps To Start and Continue Your Weight Loss Journey Supercharged with Motivation






#6: Turbo Fire Transformation – 2 Babies, 2 results.
Tarah Carr shared her story and success after 2nd baby.



#7: Svetlana's Body Transformation After Her Second Baby
Svetlana lost 30 pounds in 3 months by exercising 5.5 minutes a day, 4 times a week.
She not only lost weight, but she also built muscle, and became stronger and healthier.
Watch her journey alongside before and after weight loss results in this video.