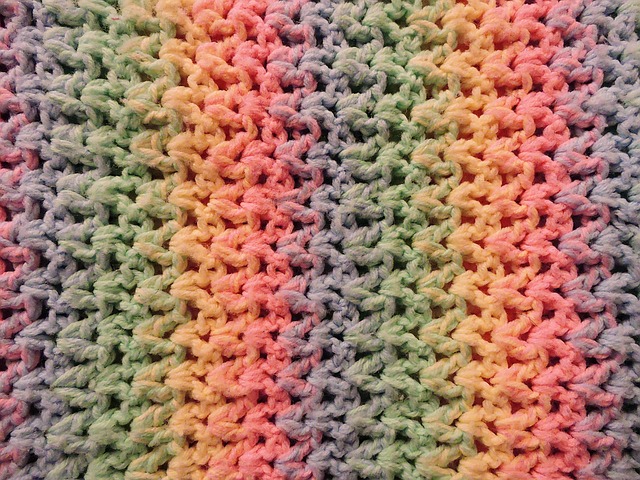 You know it is true:
A thoughtful gift can truly warm the heart and soul of someone who is having a tough time.
Among the popular gifts for cancer patient –
warm comforting prayer blanket can be a gesture that brings a ray of light to patients who are battling with the biggest fight of their lives.


Most people with busy schedule will buy off-the-shelf blankets as chemo gift, while some of you may prefer to crochet or knit DIY blanket of various patterns/sizes to show your support.
Let's jump right in to look at some of the best chemo prayer blankets for cancer patients, including examples of crochet patterns that you can draw inspirations from.



#1: The Science Behind Weighted Blanket for Chemo Patients
According to American Cancer Society, when chemotherapy drugs are used for cancer treatment, cancer patients are more prone to anxiety and depression, and that can cause severe fatigue and sleep disorders in patients.
To combat these types of side effects, the safe and non-drug weighted blanket therapy is being used worldwide to bring calming effect, help reduce anxiety and stress, as well as improve sleep disorders for patients.
The blankets are made of 10 percent of a person's body weight, and with the help of these blankets, a firm pressure is delivered all over the patient's body.
This therapy is also called Deep Touch Pressure (DTP) stimulation.



Studies by researchers show patients feel less anxious and better when they use weighted blankets, and the reason is the release of the chemicals found in the brain that are serotonin and melaton in which is produced by the warmth of the blankets.
When these chemicals are present in normal amounts in the body, they aid with sleep problems and ultimately help you in uplifting your mood.




#2: Best Prayer Blankets for Cancer Patients You Can Buy
Most patients always feel cold when receive treatment in the temperature controlled chemotherapy room, and want to stay undercover most of the time.
However, a common problem is that many chemo patient do not like the smell of blanket provided by hospital, so it is great idea to get warm blanket for their own use.
BlankieGram Healing Thoughts blanket and Chanasya Warm Hug Positive Energy blanket are two top rated options, as evident by their countless excellent user reviews.
Superior quality and unique design with inspiring messages on these prayer blanket are what make them stand out among cancer patients.
This is great thoughtful and motivating chemo gift idea too!




Have time to make DIY chemo / lap blankets for someone undergoing cancer treatment?
Here are some great videos and examples that you can get inspirations from:


#3: A Breast Cancer Patient's Chemo Blankets Collection
Joan Lunden, a breast cancer patient, talks about her collection of blankets that is given to her by different people and organizations.
The first blanket which she shows us is a warm pink crochet blanket, then a special breast cancer edition woolen blanket, followed by another beautiful hand crocheted blanket.
Related read: 17 Thoughtful Breast Cancer Surgery Care Package Gift Ideas She'll Love





#4: Hannah's Hugs: Tie Blankets for Cancer Patients
Hannah Williston makes blankets for chemo patients at Mayo Clinic Health System in Red Wing.
To make tie blankets and chemo quilt, you need two layers of fleece about 1 or 1/4 yard each, and it requires several cuts, as shown in the video below.
First, you need to cut the squares out on the corners, with the help of scissors or rotator cutter. Then you need to cut the fringes and double tie them. This whole process will approximately take one hour.
#5: Cozies for Chemo
Making blankets for cancer patients can only be done by adults? Not really.
Megan Vizzard, a student aged 14 years, started a project known as Cozies for Chemo, which aims to provide cancer patients with blankets to use during chemotherapy procedure.
It is a non-profit organization. They provide hand tied fleece blankets all over the United States. They have donated 9729 blankets since March 2012.

Check out this video and you'll see lots of chemo blanket pattern ideas:


Recommended read: 15 Awesome Skin Care Products to Use During Chemo and Radiation



#6: Crocheted Chemo Blankets Made By a Man
A man named Raymond Hall started a Crocheting fundraiser campaign.
When he was interviewed by ABC channel 10 in San Diego, he said that he likes making these blankets for cancer patients to help them make feel happier. His goal is to crochet ten blankets every month and to donate them to various cancer hospitals.
To crochet a blanket, first you need to determine a finished size that you want and it also depends on the recipient. The next thing is the size of the yarn and then the hook size.
#7: Warm Blankets and Prayer Shawls by Crochet Club
According to 41NBC, a group of middle Georgia ladies are crocheting shawls and blankets for cancer patients that are undergoing chemotherapy.
One of them is Audrey Griffin, a cancer survivor knows that how meaningful these shawls are for cancer patients. These shawls will not only warm their bodies but win their hearts because these shawls are homemade and that somebody has invested their time for them.





Like this Post? Then please Share it!