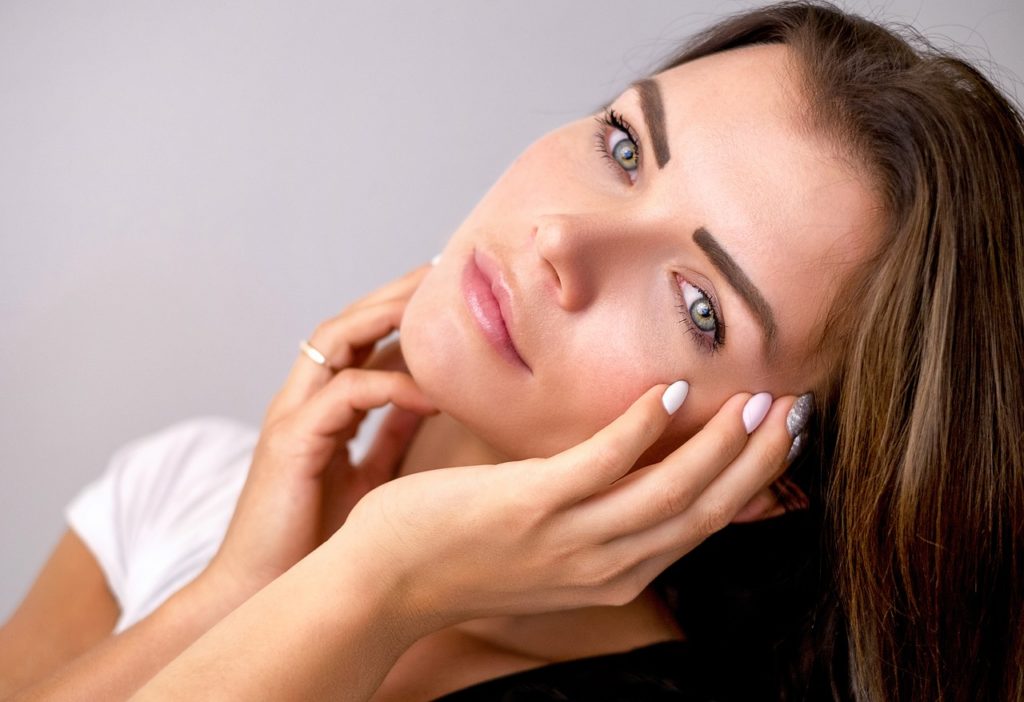 You know it's true:
Chemotherapy and radiation therapy have really bad reputation for bringing terrible side effects during cancer treatment:
Hair loss, nausea, vomiting, no appetitite, fatigue, chemo brain, neuropathy, and more.
One physical hardship experienced by many cancer patients is the skin changes after chemo and radiotherapy.
To make things worse, according to Montefiore Medical Center, weeping radiation burns that force interruptions in treatment has been proven to increase the risk of cancer recurrence.
With skin care management during cancer therapies is important –
here are useful tips and top skin care products that can help ease your way through the treatment.



Skin Changes After Chemotherapy and Radiotherapy
According to the U.S. National Cancer Institute –
Chemo hand and foot syndrome, also known as Palmar-plantar syndrome, is a chemotherapy side effect on skin when chemo drugs affect the growth of small blood vessels and skin cells in the hands and feet. Patients may experience redness, burning, cracked or peeling skin, swelling, etc.
On the other hand, cancer treatment may cause skin changes on the body part that receives radiation therapy and become dry, itch, turn red or darker.
Other common skin related issues after chemotherapy and radiotherapy treatment include skin rash, skin sores, cracked lips, scalp irritation, brittle nails, and much more.


In the video below, Oncologist Dr. Amanda Olson at MD Anderson Cancer Center and cancer survivor Lolita Smith shared their insights and tips about skin changes after chemo and radiation:





Top Skin Care Products to be Used During Cancer Treatment
To improve the cancer patient's quality of life during cancer treatment and avoid interruption of radiation therapy that increase the cancer recurrence risks —
Here are 15 awesome skin care products to be used during chemo and radiotherapy, as recommended by cancer patients based on excellent user reviews:



#1: Lindi Skin Soothing Balm for Hands and Feet
Made in USA, this clinically tested soothing balm is formulated to help cancer patients who experience skin problems after chemotherapy or radiation therapy treatment, such as:
intensely dry hands and feet.
skin discoloration, itchiness, and burn.
peeling or cracked skin.
chemo skin sores.
Containing avocado oil in abundance, the Paraben free Lindi Skin soothing balm can be used as often as needed by gently massaging this emollient lotion into the affected skin area.
>> Check out why Cancer Patients LOVE to use this product during Chemo and Radiotherapy



#2: Alra – All Vegetable Unscented Mild Soap
Alra is an established natural skin care products brand among cancer patients, with over 30 years of history.
This all-vegetable unscented mild soap is formulated to relieve and soothe the adverse skin effects induced by chemo and radiation.
An inexpensive medical soap with high content of glycerin (an organic compound with moisturizing powers) and botanical oils that offer great skin cleansing effect without drying out or irritating it further.
>> Check out this Product with near Perfect User Review Ratings



#3: Jeans Cream – Created by Breast Cancer Survivor
As shown in the video by Boston's NECN News above —
this product created by Jean Soulios was originally formulated as a radiation burn cream over counter to help protect and heal the skin from radiation-induced side effects.
Made in the United States, Jeans cream is now also helping people with chemotherapy skin issues, eczema, sunburn, shingles, diabetes, psoriasis, and much more.
Contains high-potency vitamin, natural ingredients, and plant extract blend to help soothe and heal the skin during / after cancer treatment.
>> Check out what Actual Users Said about Jeans Cream



#4: Award Winning L'Occitane 20% Shea Butter Hand Cream
Based in France, L'Occitane is a popular international brand for body, face, and fragrances since 1976.
As their best selling product, this highly rated hand cream with ultra-rich texture is formulated with high concentration of 20% shea butter that offers intense nourishing care. Its other natural ingredients include almond extracts, honey, and coconut oil.
Upon application on skin and and massaged in, this fragrance and dye free cream melts into the hands and forms a protective film for extremely dry and compromised skin.

>> Check out 900+ User Reviews of this Popular Hand Cream to Learn More
#5: Miaderm Radiation Relief Lotion
According to
WebMD
, this topical moisturizer can be used to prevent or treat dry skin, scaly, itching, redness, pain, and minor skin irritations such as skin burns and itchy rash associated with radiation therapy.
Manufactured by Aiden Industries in a United States FDA approved lab, Miaderm Radiation Relief Lotion contains 4% Lidocaine HCL, calendula, aloe vera, hyaluronate (hyaluronic acid), and other ingredients that offer soothing effects.
>> Learn More about this Radiation Relief Lotion



#6: Emu Joy Cancer Care Pack for Skin and Lips
This cancer skin care kit comes with the following products that are formulated to ease skin issues associated with chemo and radiation therapy:
1 bottle of pure AEA Certified Emu Oil that is rich in essential fatty acids, carotenoids, Vitamin A, flavones, and other nutrients.
1 tube of Banish Chapped Lips lip balm with natural ingredients such as coconut oil, cocoa butter, aloe oil, jojoba, and Vitamin E.
>> Check out this Chemo and Radiation Side Effects Skin Care Kit



#7: Aquaphor Lip Repair
Aquaphor is a well established company that offers skin healing products since 1925.
This highly rated Aquaphor lip balm is formulated to provide instant relief and moisturizing effect to dry and cracked lips.
It contains soothing Chamomile essence, shea butter and nourishing vitamins for soft lips.
>> Learn More about user reviews on Aquaphor Lip Repair Balm

Emily Anderson CNP of Avera Cancer Institute shares more tips and recommendations about chemotherapy skin changes in video below:





#8: Dermalogica Solar Defense Booster UV Sunscreen
As mentioned in the video above, cancer patient's skin may become highly sensitive to sunlight after chemo and radiation therapy.
And it's recommended to always use a sunscreen with Sun Protection Factor (SPF) of 30 or higher.
An excellent choice of sunscreen product is the Dermalogica Solar Defense Booster with SPF 50 coverage — in which you can apply it directly to face and neck, or mix it with your foundation or moisturizer to offer critical defense against UV light.
This premium product contains natural ingredients such as grape seed extracts, antioxidant vitamins C and E, green tea, etc.
>> Learn more about Solar Defense Booster by Dermalogica



#9: Neutrogena Ultra Sheer Liquid Sunscreen SPF 70
The ultra sheer liquid sunblock with broad spectrum by Neutrogena offers great SPF 70 protection from the sun.
This oil-free and PABA-free texture can be absorbed easily to provide a non-shiny finish, that can work alone or under moisturizers and makeup.
Its active ingredients include Homosalate 10%, Avobenzone, Oxybenzone, etc.
>> Learn more about this inexpensive SPF 70 sunscreen



#10: Alra – Mild Conditioning Shampoo for Cancer Patients
This mild conditioning shampoo from Alra is a cleanser and conditioner combo that cleanses scalp and hair gently.
It provides relief from dry, irritated, and itching scalp during and after cancer treatment.
The 3 key ingredients of this shampoo are rosemary oil, aloe vera, and Panthenol (also known as Pro Vitamin B5).
>> Learn more about Alra mild conditioning shampoo


Watch the excellent video below, in which Mary Anderson of the Norton Cancer Institute shares her skin care tips to deal with various skin conditions caused by chemotherapy – including recommendation to help relieve scalp discomfort.





#11: Dadi'Oil for Organic Nail and Cuticle Conditioning
Chemotherapy may cause the patient's nails to become more brittle, so the fingernails may break more easily and won't grow as long as they used to.
This cuticle oil is a great moisturizer that absorbs quickly, provides deep non-greasy penetration, and prevents nail brittleness by enhancing its flexibility and toughness.
It is made up of 21 essential oils such as high-purity Extra Virgin Olive Oil, Natural Vitamin E, Avocado Oil, Jojoba Oil, etc.
>> Check out Dadi'Oil with excellent User Review Ratings



#12: Karuna Karma+ Kit with Exfoliating Face Mask
According to
Cancer Research UK
–
Face masks and exfoliators can be used once or twice a week to care for your facial skin during cancer treatment, to brighten your skin and keep it in good hydrated condition.
The award-winning Karuna Karma+ Kit includes 4 sheet masks with ingredients that target different skin concerns, including the clinically proven Hydrating Face Mask.
>> Learn more about Karuna Karma Kit+ Face Mask Box



#13: Glysolid Skin and Hand Cream
This cream contains 2 vegetable-based ingredients that help to treat sensitive and damaged skin:
Glycerin as a skin softener that keeps skin cells flexible and supple.
Allantoin that stimulates the healing of small injuries and minor burns through skin cell regeneration.
>> Check out Glysolid cream with great User Reviews



#14: Lindi Skin Cooler Roll for Radiation Burns
Made in the United States in an FDA compliant facility –
This cooler roll is 4 inches wide and 60 inches long, and it can be cut to size and adhere to the skin without sticking.
The hydro-gel dressing in Lindi Skin cooler roll is primarily made of water infused with ingredients like aloe and green tea, that help to promote skin healing while reduce inflammation and redness.
>> Check out 20+ Breast Cancer Patients' Review on this product



#15: Eucerin Healing Cream for Extremely Dry Skin
This fragrance and dye free cream is formulated to heal and protect extremely dry and compromised skin.
A thick and rich cream that provides intensive moisture on dry and sensitive skin, with its ingredients include Petrolatum, mineral oil, ceresin, etc.
>> Check out 800+ User Reviews of this Rich Lotion



Like this Post? Then please Share it!