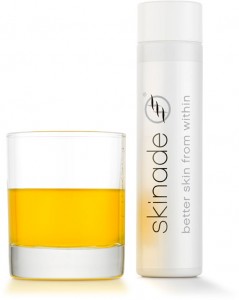 Skinade is a multi award-winning collagen drink developed by leading UK scientists.
While the brand promise is younger, healthier and better skin from within –
Does Skinade really work to deliver the intended results?
We comprehensively comb through the medical research results of Skinade ingredients, actual Skinade customer reviews including before and after results, side effects and complaints, where to buy Skinade, etc.

Just read on, or >> Visit Skinade Official Website for details.



Skinade Ingredients Reviews: Medical Research Results
Manufactured and bottled in the UK, Skinade claims to contain a patent pending formulation of active ingredients that boosts body's natural production of collagen and hyaluronic acid, to improve the way our skin looks and feels.
We examined the key ingredients inside Skinade collagen drink and the corresponding medical research to understand if Skinade ingredients really work:
Skinade Ingredient #1: Hydrolyzed Marine Collagen Peptides
Collagen is a protein found in the body of all animals, including humans. It makes up connective tissue like skin, tendons, cartilage, organs, and bones. When collagen is hydrolyzed, it's broken down into smaller, easy-to-process particles.
Hydrolyzed Collagen has been known to help improve human skin properties, with our skin is made up of collagen proteins. The supporting research studies include:
The renowned ScienceDirect published research reported that taking supplements containing hydrolyzed collagen significantly improve facial photoaging, sebum, hydration levels, and tone the skin.
A clinical study on 69 women aged 35-55 years conducted by Department of Dermatology, University of Kiel in Germany found that collagen hydrolysate dosage groups showed a statistically significant improvement in skin elasticity compared to placebo.
Watch the brief video below with good illustration of (hydrolyzed) collagen and skin health.





Skinade Ingredient #2: L-lysine The Collagen Crosslinker
According to University of Maryland Medical Center, L-lysine is an amino acid that the body cannot manufacture — it must be consumed in food or supplements.
L-lysine is an important and indispensable component of proteins, in which it plays a key role in promoting skin health through tissue maintenance and increased collagen formation.
For instance, S. P. Robins from Rowett Research Institute in UK said Lysine has been shown to play a role in collagen crosslinking. The enzymatic hydroxylation of lysine residues in collagen protein is required for the stabilization and orderly formation of collagen in the body, a necessary step in the formation of healthy connective tissue.



Skinade Ingredient #3: MSM – Collagen and Keratin Maker
MSM, or Methyl Sulfonyl Methane, is an organic sulfurcontaining compound naturally found in many superfoods like broccoli, cabbage and Bbrussels sprouts.
According to Arthritis Research UK, laboratory studies show MSM has anti-inflammatory and antioxidant effects, while Sulfur as a major component of MSM plays an important role in making collagen and keratin.
Renowned osteopathic physician and alternative medicine proponent, Dr Joseph Mercola, said:
"Sulfur is an emerging stealth player in nutrition and for a variety of mechanisms, including the detox and anti-inflammatory pathways. Remember, if you don't have enough sulfur in your diet, you're not going to be able to naturally produce glutathione, which is absolutely essential for removing heavy metals and many of the toxins you're exposed to.

I understand a perfect diet is hard to come by these days, so some supplements I believe can be quite beneficial. MSM would fall into this category… MSM is 34% sulfur by weight.

Toxicity studies have shown that MSM is extremely safe and can be taken at very, very high doses".

MSM has a softening, deeply penetrating effect on the skin when applied topically. It has the unique ability to penetrate several skin layers and therefore provides a better, more deeply hydrating and smoothing effect for longer periods of time. For this reason, MSM can effectively help those who have chronically dry or mature skin that has lost a lot of its elasticity.
People report they experience improved skin when supplementing with MSM internally. This is no surprise since our skin cells are also "soft tissue" cells that need to retain their pliability and flexibility, and this compound helps the cells do just that both topically and internally.
Watch this informative video to learn more on MSM and its wide range of benefits, presented by Bill Rich – the first person to use the nutrient MSM for human consumption.
Skinade Reviews: How Does Skinade Collagen Drink Work?
Collagen is a key part of the connective tissue in the skin that creates firmness and suppleness, and is vital for skin elasticity, as well as driving skin cell renewal.
With the collagen amount in the skin decline and the collagen production slows down as we age, there are strong impetus to replace it with collagen drink as supplement to help restore plumpness, bounce and suppleness to ageing faces.
But how does consuming collagen orally make a difference?
Dermatologist Dr Stefanie Williams, medical director at European Dermatology London, concludes that 'collagen drinks actually work by persuading our bodies to synthesise new collagen', with additional comments below:
'After the molecule is broken down, the fragments are absorbed into the bloodstream and distributed through the entire body, including the skin, where small fragments remain for up to 14 days.

'Then comes the interesting bit: your body is essentially tricked into thinking that these fragments indicate collagen breakdown – as would happen with a big tissue injury, for instance – and repair is urgently needed.

'So it stimulates fibroblasts to produce more collagen, elastin and hyaluronic acid – the compounds that give our skin its youthful qualities.'
The bottom line:
Skinade User Reviews & Results: Does Skinade Really Work?
Do Skinade drink users really enjoy better skin from within?
The actual customer reviews on Skinade have generally been convincing, with the benefits offered are not restricted only on better skin: 

User Feedback #1: Skinade Offers Improved Skin Before and After
We checked through the Skinade user reviews, with various skin improvement experienced after taking Skinade drink that contain hydrolysed marine collagen peptides sourced from fresh-water fish, L-lysine, MSM, and other – just as the aforementioned clinical results show on Skinade ingredients.
Examples of actual Skinade user feedback are as below:
Natasha Smith said: "Skinade has transformed my skin. It was once dry, spotty and I had begun to develop wrinkles. Since starting Skinade 3 months ago, it is now hydrated, plumper and my spots are totally gone. It is a part of my daily routine which I look forward to, as not only has it made me look and feel more attractive, it tastes good too."

Sophie Hocking commented: "It's really helped my skin. I stopped taking the antibiotics that the doctors gave me as I'd taken them for 4 months and there was no improvement. But Skinade worked wonders and my skin was so much better after 28 days."

Rebecca Lewis commented: "I liked the taste of the drink which quickly became part of my morning routine. In the 30 days it did improve my skin reducing the amount of blemishes and blackheads."
User Feedback #2: Skinade Reviews For Acne
With the U.S. Food and Drug Administration (FDA) has also approved the use of hydrolyzed collagen implants to smooth wrinkles and fix acne scars, there are many success stories that Skinade users have their acne problem fixed, including case studies like below:
Sarah Searle commented: "I have used millions of creams, taken vitamins and tried to eat right, but I still struggled to get rid of acne on my chin. My skin also looked dull and tired. Since starting Skinade, I've noticed a marked improvement in my acne and the rest of my skin is luminous. Two people asked me recently if i'd had botox! The most insane thing about it is, I've been drinking Skinade for less than a month – about 20/22 days so far. I can't wait to see the results after more time has passed."

Danielle commented: "I started using Skinade in October 2014 and after about 3-4 weeks noticed pore size reducing, acne has 100% has cleared up and general overall benefits such as more energy and stronger hair. I know its pricey but when it comes to your skin you pay for what you get."

juliet samalburo commented: "It's my 21st day of skinade today and i noticed a big changes to my skin. I work night shifts most of the time which had aged my skin and has got acne and spots every week of finishing my nights. But no more acne after 5 days of taking skinade. I had been acne free for 16 days now which is really unusual. My spots on my back has also gone. My complexion became smooth and i glow."
User Feedback #3: Skinade User Reviews On Eczema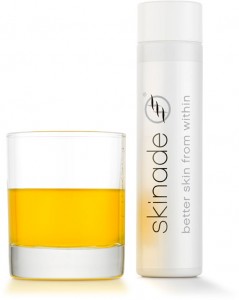 With eczema is an inflammatory disease, natural anti-inflammatories like MSM (as a key ingredient of Skinade) is helpful to reduce inflammation in the skin.
Vegans and people on a high-carbohydrate, low-protein diet probably don't get enough MSM. Antibiotic overuse may also contribute to sulphur deficiency by killing off the intestinal bacteria needed to produce essential sulphur-containing amino acids.
As such, correcting any MSM deficiency is important for eczema sufferers, with many Skinade users shared their positive results, like below:
Olivia Blockwell commented: "Skinade has dramatically improved my eczema since I've been drinking it daily, I now rarely get flare ups! This product has changed my life!"

Alison commented: "Within two weeks I noticed an improvement in my skin tone and elasticity… The most remarkable out come and totally unexpected, I had a patch of eczema on my leg, four years of using topical cortisone, which really made little difference, after three months of Skinade, it's cleared."

Mark Porter commented: "I used to suffer terribly with spots, redness and eczema despite spending a fortune on all sorts of creams which never worked. After just 30 days I noticed huge improvements, my spots went away and never came back. Not only that but I used to suffer awfully with the cold American winters as my fingertips would dry and crack making work a painful experience. After drinking Skinade they healed up completely and haven't bothered me since!"
User Feedback #4: Skinade Customer Reviews On Psoriasis
Psoriasis is a chronic skin disorder and inflammatory condition in which there are sharply defined red patches on the skin, covered by a silvery, flaky surface.
Similarly, there are many positive experience from people with psoriasis after consumed Skinade drink that contain L-lysine and MSM:

Laura Sinclair commented: "I've had terrible skin and had really bad Psoriasis for years now and I am due to get married this summer and had been stressing out about my skin as wanted a Bridal glow. So I seen skinade on twitter and thought I would give it a go. All I can say is wow it's made me skin on my face glowing and my Psoriasis all over my body so much better I don't have to use harsh creams no more wow! "

Molly Gotwals of Suffield, US commented: "I've been using this for a mere three weeks, and already I can see impressive results in the texture of my skin – especially around my eyes. In addition, I have been struggling with psoriasis on my hand and that has nearly disappeared."
User Feedback #5: Skinade Offers Energy Boost
Digestion is the biggest energy requirement of the body, with approximately 70-80% of your energy is spent on digestion each day.
MSM increases the absorption of nutrients so that the energy expenditure on digestion is vastly reduced, with many customers report feeling more energetic after taking Skinade (which also contains Vitamin B complex and Omegas 3 & 6):
Kelly Ramsey of London said: "I have been taking Skinade for close to 90 days now, and I have to admit that I look and feel amazing… I feel much more energetic and I am no longer exhausted from climbing the stairs at the office… "

Mrs. Degutiene said: "I'm using skinade for 4 mnth., my skin looks younger, I have more energy than ever before."
Skinade Reviews: Side Effects and Customer Complaints
As no product is perfect, we do observe below comments from Skinade users reviews and forum feedback:


#1: Any Skinade Side Effect?
Skinade contains all-natural ingredients that are found in our food and body, that are safe.
For instance, as pointed our earlier, Dr Joseph Mercola clearly indicated "toxicity studies have shown that MSM is extremely safe and can be taken at very, very high doses".
Nonetheless, we do find an user experience with very mild side effect as below:
Dominii shared his experience: "..I drank it each morning since 5 months ago. The Skinade gives you a rosier, refreshed look, and it's loaded with Vitamin B (which I suspect is why I feel and look more awake). With the amount of Niacin (vitamin B3) in it, you can get a Niacin rush if you drink it on an empty stomach. Parts of your skin turn beat red, for me my face, shoulders and arms. You feel warm in all of the red areas too. The initial rush lasted about 30 minutes, and subsequent rushes reduced in time. After a week of use, I stopped experiencing the rushes."
#2: Skinade Does Not Work?
As different body might have different response, it is not surprised that to see some cases whereby the results are less promising, such as below:
Lisa Haggitt said: "I used Skinade constantly for a four-week period. Although I seemed to have more energy – probably because of the vitamin content – I cannot say I noticed a difference in my skin"

One Skinade customer said: "after nearly 10 days of drinking it I see no difference in my skin at all.."

Skinade recommends that people drink Skinade for at-least 30 days before assessing the benefits, whereby according to Skinade, the results during an independent 30 day trial shows "97.6% of users reported their skin being more hydrated, 95.1% reported more radiant skin, 97.1% reported healthier skin and 91% reported having fewer lines and wrinkles".

#3: Skinade Price
While some commented about the Skinade price like feedback below –
Angela Kilgallon said: "We would like to keep on using but it is too expensive. The company don't do any offers, such as buy 6 months = get 1 free."

Mr Simon Chune said: "Great supplements but pricey."

there are many more users who reckon Skinade is great product that worth the money:
Kirsty Leigh Lewis said: "It is a premium product if you drink it every day however for real changes then all you have to do is dump the rubbish creams and daily Starbucks and you've justified the price."

Danielle said: "I know its pricey but when it comes to your skin you pay for what you get."

Chloe Spacey said: "The price isn't ideal but I will continue to use Skinade until I can't afford to splash out! Great product."

Tamsin Jessop said: "People comment on the price but it's just about choices instead of my unhealthy habits that cost a lot more, I'm swapping them for healthy ones."


Manufactured and bottled in the United Kingdom, the multi award-winning Skinade collagen drink is a high quality product that is also loved by celebrities like Karren Brady and American Grammy Award nominated R&B and soul singer-songwriter Syleena Johnson: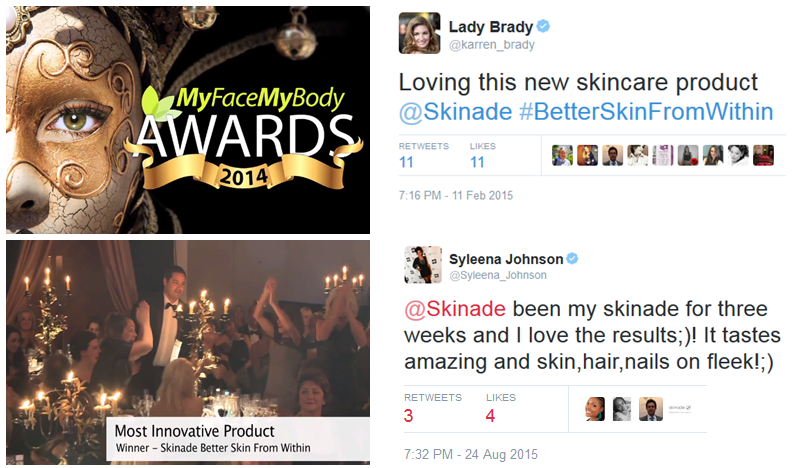 In case you are wondering what does Skinade taste like –
Skinade is a natural peach and mangosteen flavoured drink that not only loved by Syleena Johnson as shown above, but it is also liked by many of the other Skinade users, such as:

CES79 said: "My first delivery of skinade was delivered promptly. I drink it after breakfast every day – it tastes nice and sweet."

Fleur Rutland said: "I'm picky, and if it tasted like octopus poo I probably wouldn't have kept up with a bottle a day. I was astonished to discover it tastes just like peachy tropical juice. Perfectly pleasant. Certainly not the "medicine" I was expecting."

Lesley said: "I do love the idea of taking all my vits and minerals in a drink (I find it very pallatable and have had no experience of nasty after taste) so this is itself is a plus for me as I no longer have a cupboard full of tablets!"
Where To Buy Skinade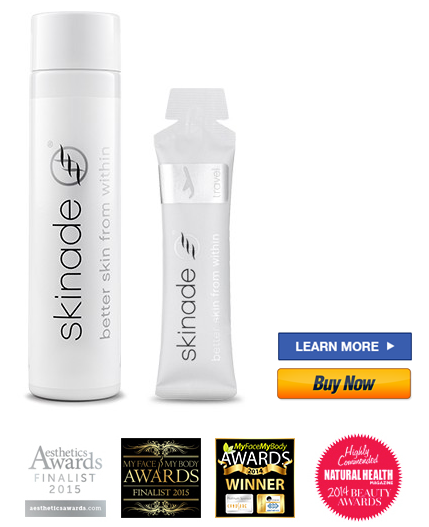 Whether you are in UK / US / Canada / Australia etc,
Skinade is available to buy online at Skinade Official Website
to ensure genuine product, whereby Skinade ship worldwide.
Skinade is available in 2 options depends entirely on your preferences, with both products are equally effective:
Skinade Regular comes in a ready-mixed 150ml bottle, just open and drink.
Skinade Travel is a 15ml liquid concentrate sachets, developed to be carried in hand luggage on a plane. Just add the sachet contents to half a glass of water each day.
Still Have Questions? >> Learn More
>> Visit Skinade Official Website




Skinade Collagen Drink Reviews: The Verdict
Skinade is a multi award-winning collagen drink that is manufactured and bottled in the UK.
Skinade contains key ingredients like hydrolyzed collagen, L-lysine, MSM etc that show proven medical results and user reviews that Skinade does work to deliver the intended results of not only to improve skin health, but also address skin conditions like acne, eczema, psoriasis, etc.
Skinade is available to buy online at Skinade Official Website, in which Skinade ship worldwide.