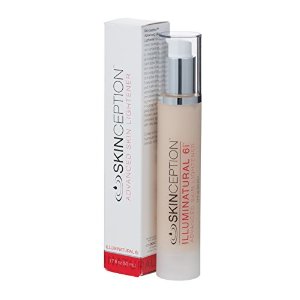 For centuries, the society has always been favoring fairer skin, and we go to great lengths in finding ways to lighten our skin as much as possible.
And sometimes, having our skin so-called whiten is not really for the sake of beauty, but rather to lighten up any darkened skin and spots that can be so unattractive –
Stretch marks, hyperpigmentation, sun spots, aging spots, or scars resulting from acne that can make our appearance looking not as good as we used to have.
Illuminatural 6i by SkinCeption claims to be a skin lightening cream that can help address these skin problems – but does Illuminatural really work?

>> Check out full product details of Illuminatural 6i cream
Illuminatural 6i Ingredients Review: Medical Research Results
As shown in this skin lightening treatment overview, there are some notable disadvantages for options like chemical peels, microdermabrasion, dermabrasion, laser peel and cryotherapy, with the use of chemical solution and expensive cost are among the key concerning factors.
As such, it is not surprised to see people explore all-natural over the counter product like Illuminatural as an cost effective alternative.
While the Illuminatural 6i formula does not contain toxic ingredients like synthetic hydroquinone, mercury, steroids, and bleach –
We have done independent research to review the medical studies, to validate the efficacy of key Illuminatural ingredients in delivering the intended results:
Illuminatural Ingredient #1: Sodium Lactate
Sodium lactate is an important component of the Natural Moisturising Factor (NMF) which is located in the outermost layer of the skin.
Thanks to its high water holding capacity, a key function of Sodium lactate in cosmetic product is its moisturising effect of the skin – as proven in a clinical study on 10 adult female test persons conducted by Jungbunzlauer, a leading producer of bio-ingredients.
Additionally, Sodium lactate gives the benefit of skin lightening, with this component is proven to inhibit melanin production. According to John Woodruff, a member of the Society of Cosmetic Scientists:
Inhibiting melanin production does not result in a noticeable reduction in pigmentation for the first few weeks, but because the skin naturally renews itself every 28 days or so, pigmented cells are gradually sloughed off and keratinocytes with less melanin are eventually brought to the surface, giving the skin a lighter, more even toned complexion.
Illuminatural Ingredient #2: Niacinamide
Niacinamide is an effective skin whitening agent with anti-inflammmatory properties.
As shown below, the US National Library of Research published clinical study results that demonstrated niacinamide stops melanosome transfer and pigmentation as high as 70%, reducing skin darkening within 4 weeks of use, with the research concludes that niacinamide is an effective skin lightening compound that works by inhibiting melanosome transfer from melanocytes to keratinocytes.
As a bonus, niacinamide also improves your skin's texture, making them smoother and suppler.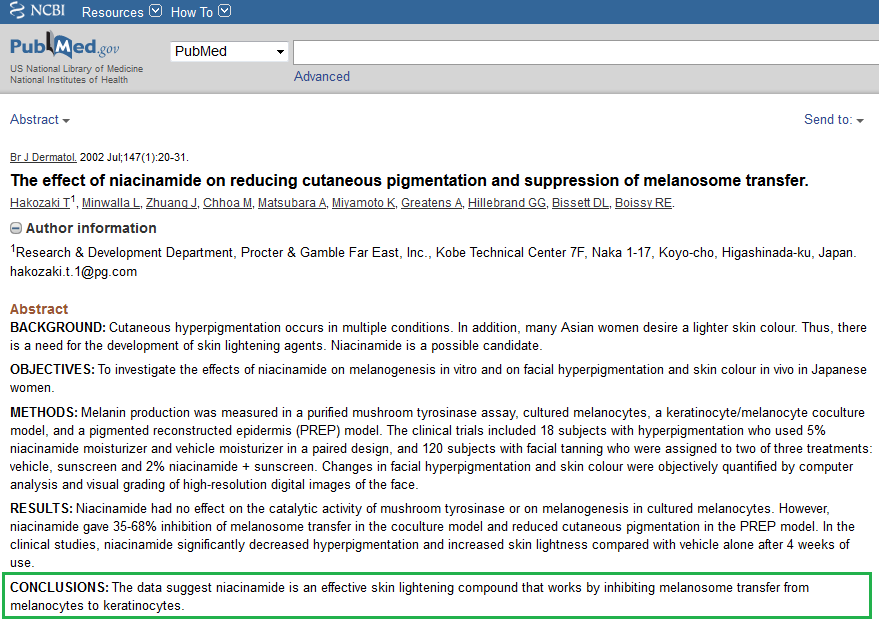 Illuminatural Ingredient #3: Magnesium Ascorbyl
Magnesium Ascorbyl Phosphate is a water-soluble, non-irritating, stable derivative of Vitamin C which works by promoting the production of collagen and elastin fibers, as well as making them stable to support our skin.
According to Taiwan Bureau of Food and Drug Analysis, magnesium ascorbyl has also been recognized in reducing the aging of facial skin and prevention of free radical formation.
In the Oprah Winfrey Show below, Dr Oz shares more on Niacinamide, Vitamin C, age spots, brown spots, and freckles.
Illuminatural Ingredient #4: Whitonyl
Whitonyl is developed and manufactured by French ingredient company, Silab, that specialized in biological active ingredient engineering for the cosmetic industry.
Developed from a red aquatic algae, the rich xylose and galactose in Whitonyl work by inhibiting the tyrosinase and melanin production, limits the transport of melanosomes (that are responsible for color and photoprotection in skin tissues), and reduces the activity of stem cell to help get rid of skin pigmentation.
As we can see from these clinical results, Whitonyl –
reduces the activity of tyrosinase (an enzyme that causes your skin to produce melanin in reaction to UV rays) by 27%.
reduces the quantity of melanin synthesized by 52%.
significantly reduces the activity of Stem Cell Factor (STF that increases afer UVB exposure) by 81%, thus limit photoinduced pigmentation.
>> Learn more on how inhibiting tyrosinase and melanin production help skin lightening



Illuminatural Ingredient #5: Alpha-Arbutin
Alpha arbutin works by inhibiting enzymes and mechanisms involving pigment production to prevent your skin from darkening. As supported by clinical study below, medical research indicated Alpha-Arbutin is an effective and safe ingredient for skin-lightening.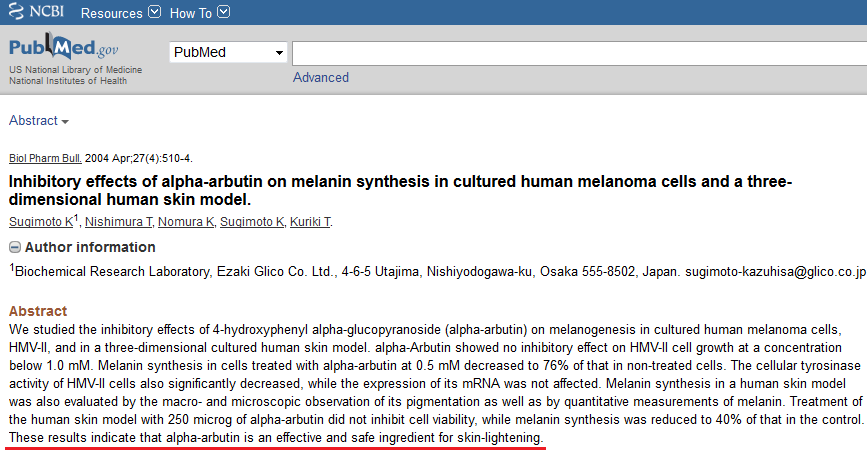 >> Check out full ingredients list of Illuminatural + before and after photo comparison
Where To Buy Illuminatural 6i Skin Lightening CreamMedical research and clinical results demonstrated Illuminatural 6i ingredients are effective in lightening dark spots on skin, including age spots, freckles, and hyperpigmentation.
Manufactured in the United States, Illuminatural 6i skin lightening cream by SkinCeption is not available for sale in physical stores, as it is only available to buy online via Illuminatural 6i official website to ensure genuine product with 100% money back guarantee.
Illuminatural 6i does not just "scrape off" the surface of skin, as its combination of clinically proven active ingredients penetrate the deep, dermal layers of skin to interrupt and reduce the production of melanin – to help get rid of dark spots, hyperpigmentation, etc.
The application directions of Illuminatural can be found in the FAQ section of its website, including other useful info like shipping options.


> Visit Illuminatural 6i official website for Best Price and Discount Deals with 100% money back guarantee <<