EmoniNail Nail Fungus Treatment
Treatment Effectiveness
9.0/10
Pros
Contains natural ingredients (eg. the FDA-approved Undecylenic acid OTC topical antifungal product) with proven clinical effectiveness in nail fungus treatment
Topical solution that does not bring the side effects of oral tablets (that can cause headaches, itching, loss of taste, and diarrhea).
Easy application with topical brush.
60-Days Money Back Guarantee
Cons
EmoniNail price is relatively higher than the other leading nail fungus treatment products on the market
EmoniNail Nail Fungus Treatment Solution Overview
Produced in a facility which has been authorized and registered by FDA, EmoniNail has been formulated to ensure that nail fungus are gotten rid of in no time. It is effective on both fingernails as well as toenails.
EmoniNail contains Undecylenic Acid, an ingredient approved by the US FDA for over the counter nail fungus treatment, as its key active ingredient.


Undecylenic Acid
This is a substance which is usually used for the treatment of fungus. According to Mayo Clinic, it belongs to the category called antifungals which are used in the treatment of fungal infections.
Undecylenic Acid will not only have the fungus destroyed but will also relieve you of any form of itching. It has its origin from a plant and can help the body improve when it comes to healing itself. This is a process that will lead to the growth of new nails which will be healthy.
The efficacy of Undecylenic Acid in treating nail fungus have been supported by clinical studies as published by the American Academy of Family Physicians and University of New Mexico.


The other EmoniNail ingredients include:
Tea Tree Oil has been known to be very effective in the treatment of different microorganisms with fungus being inclusive. The National Center for Complementary and Integrative Health (NCCIH) revealed that tea tree oil comes from the leaves of the tea tree and has been majorly used for the treating of wounds as well as cuts by aboriginal people of Australia traditionallu. Despite the fact that it has different functions, it has been discovered to help in the cleaning of the tissues in a thorough way.

Sunflower Seed Oil is very rich in vitamin E as it can help to ensure that the healing process in the tissue is fastened. In a study published in the Brazilian Journal of Microbiology, vitamin is a vital requirement for healing to take place in the tissue. Sunflower oil will help to ensure that inflamed tissue is soothed, and also that itching is greatly reduced.

>> Learn More on Full Ingredient List of EmoniNail and How They Help



How To Use EmoniNail: Application Procedure
The infected nails will need to first of all be cut and also filed. After this, ensure that you have thoroughly washed and dried the affected areas. Have it applied on the whole nail.
Areas of your nail which you should pay attention to are the side, front as well as base. After that, you need to leave it to get dried. This process should be carried out 2 times on a daily basis.



EmoniNail Pro and Con Review: Is It Right Fit For You?

It contains key active ingredient of Undecylenic Acid which is approved by FDA for use in an over the counter topical antifungal product and generally recognized as safe and effective.



Its ingredients like Undecylenic Acid and tea tree oil have been clinically researched with proven results to treat nail fungus.

For safe and natural treatment for nail fungus, topical OTC product containing Undecylenic Acid (such as EmoniNail) can be a great choice, as it does not bring the side effects of oral tablets that can cause headaches, itching, loss of taste, and diarrhea as highlighted by NHS UK.

Topical application on your skin is easy with the topical brush that it comes with. Its application will only take some few minutes and you are done.

60 days money back guarantee.


What people do not like about EmoniNail? Any complaint?

EmoniNail price is on the high side when compared to other similar products in the market, like Funginix which is much more cost effective.
For example, the cost of one bottle EmoniNail is $59.95, which is more expensive than one bottle of Funginix priced at $49.95.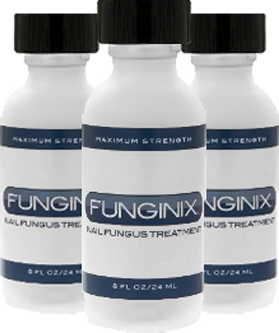 Funginix Nail Fungus Treatment Solution
Made in USA, Funginix is a popular topical solution formulated with all natural ingredients for nail fungus treatment. Fungunix contains Undecylenic Acid and Tea Tree Oil (just like EmoniNail), alongside other natural ingredients like Sweet Almond Oil, Clove Oil, Jasmine Oil, Lavender Oil, and Bearberry Extract.


>> Find out more at Funginix website here.
Can I Leave Nail Fungal Infections Untreated?
According to US CDC, fungal infection on toenails and fingernails is very common. Fungal nail has a technical name which is referred to as Onychomycosis.
When nails get infected by fungus, they will begin to show signs of being discolored, cracked, thick, fragile or even break. Toe nail fungus has always been given little or no attention by affected persons due to the fact that it doesn't cause any kind of pain.
One of its most notable features is the fact that nails of the affected persons will be changing in terms of color and appearance, while the affected person's toenail and fingernail will reduce in quality. This is always embarrassing most especially when in public.


When nail fungus is not treated on time:
Such infection may start affecting the other toenails / fingernails which are healthy.
It may affect the finger nails and the skin which is on the feet of the affected persons.
It may bring about cracking, loss of your toe nail as well as splitting.
There are also cases where patients experience ingrown toenails which are painful.
The severe cases are likely to lead to one being unable to walk.

If you happen to experience any of such then it is recommended that you see a medical professional. Otherwise, whether to treat a nail fungal infection is entirely up to you. For instance, you can easily decide on living it like that if your own case isn't leading to any pain.
Some of the methods of having toenail fungal infection treated are through removing of the nail which has been affected and the use of medications. The treatment processes commence with the use of medicines which are antifungal in nature.
Oral tables and topical ointment may likely be made use of in the process. You can actually do the purchasing by yourself. However, there are some which may actually require the prescription of a health specialist.



Where To Buy EmoniNail? What's The Alternative?
EmoniNail is a topical solution for nail fungus which will ensure that such infections are killed before they can even spread to the other nails. It has a combination of natural ingredients which can only help its users maintain health and attractive nails.
It is a product which will not only make your nails to be healthy but also attractive. Some of its components include: tea tree oil, undecylenic acid and sunflower seed oil.
While EmoniNail is normally not available to buy at stores like Walmart, CVS, Walgreens and Boots UK – it is available for sale at EmoniNail official website.


However, per our research, EmoniNail price is more expensive than the other similar topical nail fungus treatment products on the market with much more competitive pricing that can save you some bucks.
We recommend you to check out the aforementioned Funginix Nail Fungus Treatment solution, also containing natural ingredients like Undecylenic Acid and Tea Tree Oil, as a good alternative to make an educated purchase decision.
>> Check out comprehensive Funginix review.
>> Find out more at Funginix website here.