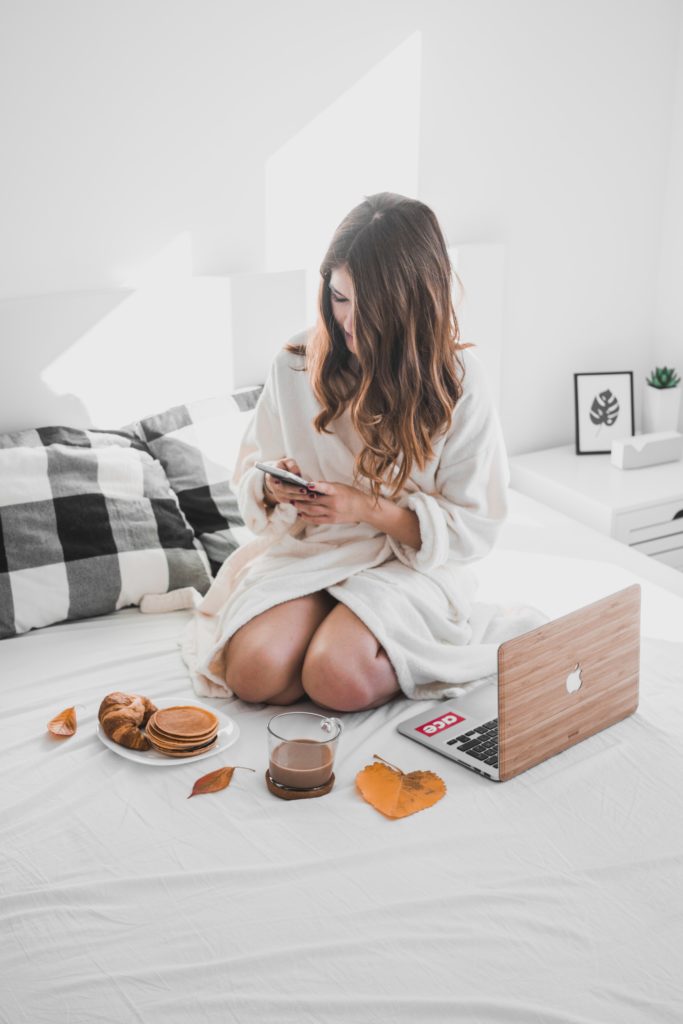 Okay, show of hands:
Who else would like to stay inside a comfortable wearable blanket and feel warm from head to toe, when you are watching TV on the sofa, reading, or playing video games?
Yeah, most of us would love that!
Wearable blankets have become increasingly popular over the years, and they are no longer just for babies.
These cosy blankets that fit over the shoulders like a giant sweater can even sometimes be fun, too!
We've handpicked 9 awesome wearable blanket for adult — that received superb reviews from many women and men:



#1: Unicorn Adults-Wearable Blanket With Hood
A cute and fun throw blanket with hood!
This blanket is designed and made by 'Born To Unicorn', a small family-owned business in the USA.
Besides unicorn lounge wear for adult women, they have more unicorn blankets designed for children.
Ready to have some unicorn fun together with your kid?
A durable and machine washable blanket that received near perfect user review rating.
>> Find out why adults and kids love 'Born To Unicorn' blanket



#2: Catalonia Wearable Blanket With Sleeves
This reversible Catalonia blanket with sleeves arms is made of plush sherpa fleece on one side, and soft mirco mink fleece on the other side.
With opening in the back and to be worn backwards, this blanket does not go over the head.
Available in many colors such as blue, wine, camel, grey, and red check.
If you want to buy a wearable blanket as gift for men or women, then this is a great choice because it comes with a storage bag.
>> Check out the Superb User Reviews of this Blanket



#3: PAVILIA Deluxe Fleece Wearable Blanket
This fleece blanket with sleeve cuffs has a front pouch that can keep your items.
Made with soft 260 GSM of microfiber polyester.
It's recommended to wash this blanket separately in cold water, and tumble dry low.
Available in many colors, including sea blue, cheetah design, latte, charcoal, and more.
>> Explore the PAVILIA blankets and its wide color variation to choose from



#4: Super Heroes – Adult Throw Blanket with Sleeves for Men
If you think wearable blanket is only for ladies — think again.
There are many funny men in the world, and some of them grew up idolizing superhero, like spider man.
These 'big boys' may still have space in their heart reserved for their hero.
Then this machine washable, fabric blanket is one item he'll love.
Of course, this wearable comfy blanket by Marvel has other super hero designs, including Captain America and Ironman.
>> Explore Marvel's super hero blanket for Men that Make Him Smile



#5: Female Superhero Comfy Throw Blanket For Her
Talking about superheroes, how could we forget about Wonder Woman?
This "Being Wonder Woman" blanket by Warner Brothers DC comics is made of 100% polyester.
>> Check out this funny Super Hero Blanket for Women
Indeed this manufacturer also offer other super hero designs like Batman and Superman.



#6: LAGHCAT Mermaid Tail Blanket for Adult
Mermaid tail blanket crochet is not only for little girl, but also for adult woman!
This Laghcat package include 3 Items:
– 1 mermaid tail blanket made in 70% Orlon and 30% Cotton
– 1 Laghcat casual daypack, and
– 1 unique Laghcat silver color necklace.
>> Check out this cute blanket to fulfill your Mermaid Dream!



#7: CasualCat Oversized Sweatshirt Blanket
This reversible hoodiehas has large arm sleeves closing, so you have no problem to move and use your hands freely.
Its lightweight microfiber polyester and ultra-thermal sherpa can keep you cozy and warm.
This product is one size fits all, suitable for adults women and men.
>> Learn more about this sherpa hoodie wearable blanket



#8: Harry Potter Adult Comfy Blanket with Sleeves
This product by Northwest is made of super soft fleece (100% Polyester) and machine washable.
If you are a Harry Potter fan, you can >> check out this micro raschel comfy throw blanket.



#9: Star Wars Adult Comfy Throw Blanket with Sleeves
Made of polyester, this wearable comfy throw blanket has several designs:
– "Being Darth Vader"
– "Being Chewie"
– "Kylo Ren"
– "Jedi Knight"
– and more.
>> Grab This Blanket & Have Fun being your favorite Star Wars Character!