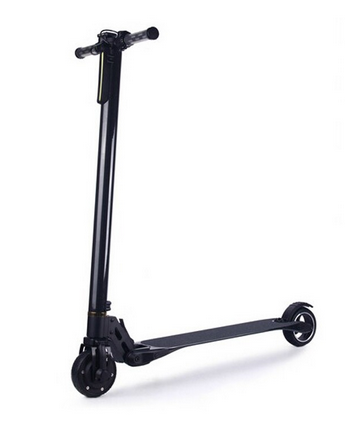 Finding the right outdoor accessory to help you make the most out of your time in the fresh air can be harder said than done.
If you want the best in features and style, you should check out the Monorover R4 Plus Electric Scooter and see if this is something that you would find beneficial as part of your outdoor lifestyle.
Take a look at it for yourself and see if it's a good match.

>> Check out Full Product Details of Electric Scooter


Monorover R4 Plus vs R4 As Predecessor
Monorover R4+ is the new and improved model of its predecessor R4, with the original Monorover R4 model launched in year 2015 has been discontinued now.
While the Monorover R4 was a portable, foldable, fast, and environmental friendly electric scooter that you can take it with you whenever you are —
The newer Monorover R4 Plus is a smaller, lighter, more portable R4.
Check out the video below to have a glance of the original Monorover R4 electric scooter, and its key specification comparison vs the latest R4+ model as its replacement with even more innovative features designed to offer overall improved user experience.




| Monorover Electric Scooter Model | Monorover R4 (Obsolete) | Monorover R4 Plus (Latest) |
| --- | --- | --- |
| Weight | 30 LBS (about 13.6 KG) | 14 LBS (about 6.4 KG) |
| Weight Limit | 300 Lbs (about 136 KG) | 250 Lbs (about 113 KG) |
| Charge time | 6 Hours for full charge | 4 Hours for full charge |
| Product Details | Product Obsolete | |
>> Learn More about Actual User Reviews of Razor / MegaWheels / Mi Electric Scooters
Monorover R4+ Fast Electric Scooter Review
As you can tell by taking a look at the Monorover R4 Plus, this looks exactly like something that you would have seen during your childhood, whether you had one yourself, or you lusted over the one that your neighbour had.
Traditional kick scooters were definitely the thing to have when you were playing outside, and this one with carbon fiber frame is definitely going to impress you in big ways.
It has the same compact footprint as your traditional scooter, but it's got electric functionality that is going to really help you get your speed up so that you can motor up and down the street with no frantic kicking required.
In fact, this electric scooter can get up to maximum speed of 15 Miles per Hour (MPH) so that you can easily move around the street and head from point A to point B. This fast electric scooter will be perfect for running errands down the street and enjoying a leisurely ride without having to work at keeping the scooter's momentum up.


Electric scooters aren't new to the world, though they've evolved quite a bit over the past several years. The early range of scooters were loud, heavy, moved slowly and took hours to charge for half an hour of ride time. You'll find, however, that the Monorover R4+ has left those clunky days far behind.
This is streamlined with its thin design, with the riding deck of the scooter is perfectly created to fit your feet comfortably and responds equally well to left- and right-hand handed riders.
It takes only 2 to 3 seconds to fold up and unfold with its light weight at 14 pounds, so it's easily portable even for young riders. The Monorover R4 Scooter folds up neatly making it great for storing and popping in the trunk of the car when you're going on a trip, while its integral carry handle makes it easy to carry the MonoRover R4 in a folded or open position as well.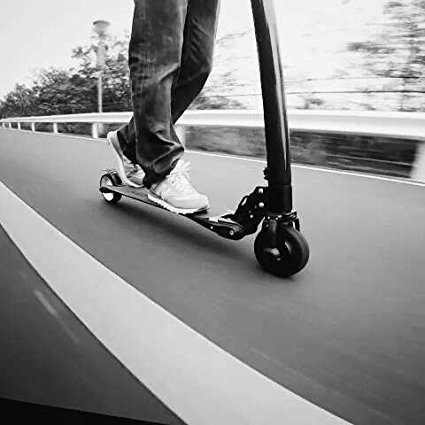 Clipping along at 15 miles per hour, you'd think you would have to deal with a lot of bumps and problems with the suspension – but this Monorover R4+ is specially constructed to get you the amount of traction that you're going to need to get where you have to go comfortably.
The tire traction makes it perfect for pavement or light gravel to off-roading on your lawn, giving you the metaphorical horsepower to move from landscape to landscape in style.
The wheels are entirely rubber so that you won't have to worry about getting flat tire from pulling too many jumps (let's face it, it's a fun thing to do).


This makes it ride similar to a lot of the older models, while still having the modern creature comforts that you are looking for in this particular scooter model.
If you work in a building, this is easily used inside and outside and can be stored in a locker or a break room without an issue, making it great for those who are looking to commute and store it onsite. You'll have more than enough juice to get to work and back and you will love the power that it will give you.


>> Compare Monorover vs Other Electric Scooters To Learn More


To keep you up to date on what you need to know with a glance, there is a LCD screen that has all of the critical stats on your electrical scooter. You can see the battery level, the time, and the speed that you're going. If you change the mode, you can also get an odometer and the trip time for pinpointing everything down exactly as you need to.
This works perfectly for what the modern person on the go is going to need. There is a bright button-operated white LED headlight, handlebar brakes, plus a friction brake on the back for maximum safety and security when riding. The throttle is very responsive so that you can speed up and slow down without missing a beat.
The handlebar isn't adjustable, but it's been designed to be the perfect height for most people so that you don't have to worry about the adjusting per rider like a lot of the other similar models.


Other key features of this R4+ fast electric scooter include:
Ride time of approximately 15 miles or 2 hours.
Nominal Voltage 24; Motor Parameter: Power 50-250.
Terrain: Pavement, light gravel/dirt, light rain, indoors.
Thumb-operated throttle control for easy speed changes.
Electronic thumb-control brake and manual friction brake on rear wheel.
Equipped with high quality lithium battery, 1 hours charger time for 20km range.

Check out the excellent video below to learn more about the features and riding experience of Monorover R4 Plus electric scooter, which is recommended for rider with age of 10 and older according to the manufacturer.





Monorover R4 Plus Electric Scooter For Adult: The Verdict
The thing to focus on with this model is that it is delicate and light, but it's not a toy. This meant for real riders looking to run errands, make the commute to work a little shorter than walking, and still have the modern conveniences of a portable scooter.
With a scooter like this, it gives you the full freedom to really enjoy a fun toy, a great aid in your daily commute, an eco-friendly option if you are looking into alternatives to a car, but a bike just isn't cutting it, and so much more.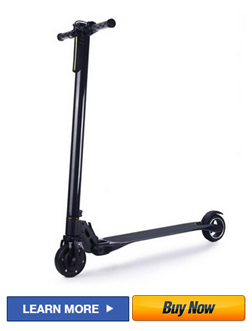 It is one of the first options in electric scooters to really be viable for long term use in realistic situations, making it a popular option.
If you've ever thought about an electric scooter and using it in your daily commute, or running errands, this model is definitely the best option for you to take a look at. It's got all of the traits you want and the modern practicality you need.
MonoRover guarantees 1-year product quality warranty and 30-day moneyback, which comes with:
1x R4+ Electric Scooter
1x MonoRover Charger
1x MonoRover Manual and Authenticity Card
>> Visit Amazon Website Here To Learn More about User Reviews of other Razor / MegaWheels / Mi Electric Scooters