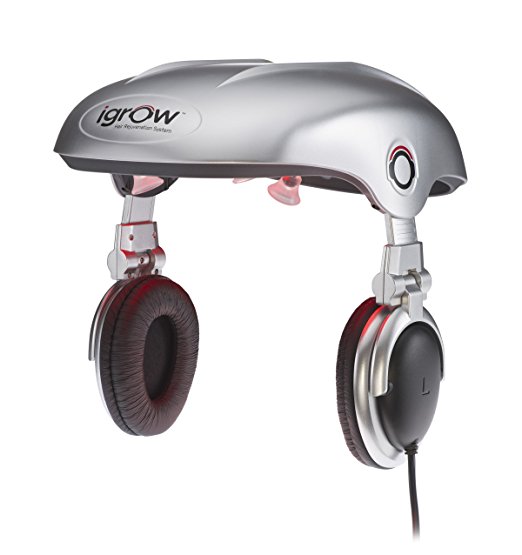 Hair growth is a common problem as we age.
As revealed by MedlinePlus, men may start showing signs of baldness by the age of 30 years old, while women can also develop baldness as they age with hair becomes less dense and the scalp may become visible.
While iGrow laser hair growth system is an OTC solution that can help to address hair loss problem —
Does this hair laser helmet really work, or there are better alternatives to be considered?

>> Check out Full Product Details of iGrow System



iGrow Laser Hair Growth System Overview
The benefits and use of laser therapy have been around for several years, but they are still making themselves known in the world of cosmetic therapy options. These provide what is referred to as LLLT – Low Light Laser Therapy – and work by gently sending these wavelengths to your scalp while in use.
This lasers are painless, offer therapy to the scalp at the perfect rate to give you results without any side effects, and have been proven to be effective in many clinical cases.
The goal of LLLT is to be able to promote better scalp health, which will help your hair follicles in return, providing you with fresh hair growth and a better head of hair in the long run.
The iGrow in-home hair growth system is FDA 510 cleared and is indicated to promote hair growth in men and women, by using an array of low level lasers to treat your scalp.

iGrow uses Low Level Light Therapy technology as an effective hair growth treatment process that increases cellular activity and promotes proliferation of thick, full and healthy hair. The system is intended to boost blood supply to the impacted weak hair follicles and energize them, so that they start to grow out new hair that is stronger than before.

This iGrow helmet is designed to rest comfortably on your head, helps you regrow your hair that is thinning or falling out due to a variety of aging and genetic issues.

In order to both give you something to do, and stabilize the weight distribution on your head, the iGrow hair growth system has comfortable noise cancelling headphones that will rest over your ears, and you can plug them into your iPad or iPhone, or MP3 player, whatever you need to relax.
In the video below, health specialists and cosmetic surgeon Darshan Shah M.D. discussed about iGrow Laser Hair Growth System and how it helps hair rejuvenation.




>> Learn More about How iGrow System Can Help You to Promote Hair Growth


iGrow laser hair growth system is unique from a lot of other options because it uses this advanced technology option to give you the treatment that you need, right to the scalp.
The iGrow laser helmet is better than a lot of those creams and serums that you can find, because it goes beyond the skin and targets the hair follicles themselves, making them stronger with the perfect amount of increased stimulation and increased blood flow.
The point is to gently massage them into providing stronger hair that is going to grow in and stay strong as it grows out.


You can use this treatment in combination with associated shampoos and sprays if you want for enhanced results, or you can just use this helmet on its own and get the same perks. Some are so comfortable with using the creams, that they are more familiar, so they tend to be more trusting of them. It all depends on what you are looking to get out of the system.
The most important thing to remember is that this system is meant to promote hair growth for those who are dealing with weak or thinning hair. There is still existing hair and weak follicles to work with.
If you are entirely bald, or have entirely bald spots, this kind of treatment is not going to help you out, because it is a different problem entirely.



How To Use iGrow Helmet: Application Direction
This is an alternative treatment option for many people out there who are used to looking for something that can easily be added to their daily schedules.
Use for 25-minutes every other day for a 16-week period.
After 16 weeks, use it at least once per week to maintain results.
Check out the video below for step by step demo on how to use iGrow laser helmet, including detailed explanations of iGrow features.




As shown in the video, there are 5 different modes that you can look at on the helmet as far as the treatment options are concerned: 3 are for male users, and the last two are for female users.
Each mode is a picture depicting hair loss in different sections of the scalp, so you need to make sure that you choose the right mode for your scalp as well as your kind of hair loss.
This is an important step to follow, as choosing the right mode and therapy is critical for getting positive results down the line. The results take up to 3 months to see a difference, though many users state that it was closer to 6 months to see a visible difference when they styled their hair, or took photos.



Where To Buy iGrow: Walmart, Walgreens, CVS, or…?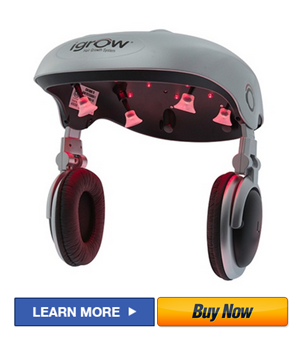 Equipped with head phones and an iPod/MP3 interface, the iGrow laser hair growth system is a convenient and premium device equipped with effective Low-Level Light Therapy that promote hair growth.
iGrow laser hair therapy device is available for sale at Amazon.com, with a 6 month money back satisfaction guarantee, alongside a Manufacturers 1-Year Warranty.
Each iGrow purchase comes with:
iGrow helmet
Remote Control
User Manual
Universal AC Adapters
Remote Control Cable
Auxillary Cable (for use w/MP3 player or other media)
>> Check out Genuine iGrow System with Best Price at Amazon.com here



User Reviews on iGrow Laser Hair Growth: Does It Work?
This is a great hair loss treatment option if you are looking for a modern but simple and pain-free way to deal with your thinning hair or weakening hair roots. Using lasers, your scalp will be able to rejuvenate itself and will give you better hair growth so that you can see the different in as short as 6 months.
However, the reality of the situation is that all of us are looking at hair loss for a different reason, so there is no such thing as the perfect solution.
As you would expect, the iGrow user reviews and results are mixed with positive and negative.


>> Check Out Useful iGrow User Reviews and Actual Before After Results For Reference



iGrow Reviews: The Verdict and Recommended Alternative
For those that have been trying alternative treatments for years, iGrow laser hair growth system may very well offer the right final results that you're going to be looking for in your world.
Convenient, fully portable private in-home hair growth system with advanced LLLT.
Hands-free, easy to use and requires no manual movement.
4 adjustable fit columns with rotating weight distribution for optimum comfort.
Headphones extend and retract to custom fit any head size.
This particular trait makes it unique from a lot of the other options out there and it presents some great options for those that want to find 20 minutes a day to double as hair therapy time, and a short rest from their day. This should give you positive results on both levels.


In case you are exploring alternative, iRestore Laser Hair Growth System is a good option that you can check out the below and make an educated purchase decision to help your hair growth.


| | iRestore Laser Hair Growth System |
| --- | --- |
| Product Images | |
| Product Usage | FDA-Cleared Hair Loss Treatment system for Men and Women |
| Laser Modules Quantity | 51 |
| Wavelength | 650nm (Red Light) |
| Treatment Time | 25 minutes, 3x per week, on non-consecutive days. |
| Product Reviews | |
| User Reviews | |
| iRestore Official Website | |