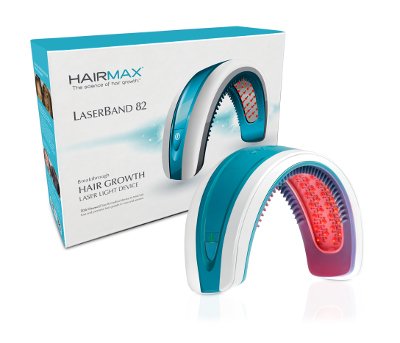 For most of us, losing the crowning glory is almost the same with losing our self-confidence.
Hair restoration through transplant surgery is certainly an option, but let's get real here:
Not everyone can afford the hefty cost of such cosmetic procedure that is not covered by health insurance.
After all, Daily Mail revealed how a £30,000 hair transplant can still leave us going bald.
Good thing that there are now many hair loss solutions in the consumer market, with one of them is hands free Hairmax LaserBand 82 with advanced technology.
But is this hair growth kit the right fit for you?
>> Check out Full Product Details of HairMax Laserband To Learn More



HairMax Laserband 82 Reviews vs Hair Transplant Surgery
According to American Hair Loss Association, Androgenetic Alopecia (male or female pattern baldness) is by far the most common form of hair loss, with about 90% of the hair loss is genetically inherited and can come from either the mother's or father's side of the family.
That's not to say you are powerless to overcome this problem, as there are treatments like hair transplant surgery with proven effectiveness to combat balding.
However, not everyone is suitable for a hair transplant procedure or wishes to undergo surgery.



When Are You Not Suitable for a Hair Transplant?
Before hair transplant operation is carried out, you will need to seek doctor consultation and assessment to determine whether you are suitable for the procedure. For examples:
People with extensive hair loss is not suitable for hair restoration surgery, as there will not be enough donor follicles to cover the balding area.
People with thinning but still reasonably dense hair may not have enough space to insert the new hair.
People with a diffuse or wide-spread pattern of hair loss condition will not be suitable.
As reported by BCC, top surgeon warns against hair transplants too young before age of 30, to avoid end up with isolated patches of hair, hairy temples, and a bald forehead.
Cosmetic Hair Transplant Surgery Cost – How Much?
The hair transplant cost depends mostly on:
the degree of your hair loss
how many grafts or follicles are needed to meet your expectations
how many sessions you may need to complete your hair restoration procedure
surgeon's experience and location of the clinic where the surgery takes place
While you should consult your local medical institute or doctors for diagnosis to determine the exact cost, the estimation of the hair transplant surgery cost range in US / UK / Canada indicated below (based on the pricing info on the respective service providers website) could serve as your quick reference.


| | USA * | USA * | UK * | Canada * |
| --- | --- | --- | --- | --- |
| Megasession Follicular Unit Transplantation | | | From GBP $3,000 to $6,500 | From CA $9,000 to $15,000 |
| Follicular Unit Extraction (FUE) | From USD $7,250 to $16,000 | Starts at USD $6,000 - 7,000 | | |
| Linear extraction | | Starts at USD $3,000 - 4,000 | | |
| Blood test | Around USD $250 | | | |
| Other Costs | | Medication, blood tests, anesthesia, facility fees. | Generic Test USD $600, Prescription USD $150. | |
| Remarks | Non-refundable first payment of $2,500 to schedule a procedure | | | |
* Source of info:
– Feller & Bloxham Hair Transplantation, New York.
– Hair Restoration Center of Connecticut, USA.
– London Hair Loss Clinic, UK.
– HTC Hair Transplant Centre, Vancouver, Canada.



HairMax LaserBand: Premium Medical Device For Fast Treatment
When people are fazed by how much does it cost to restore their hair, it is understandable that the more cost effective options are considered in today's tough economic climate – such as over the counter solution like HairMax LaserBand.
HairMax LaserBand is a premium medical device for fast treatment, and it is not for everyone because of its relatively higher price compared to other OTC solutions like shampoo or pills.
If the cost of this hands-free premium hair growth medical kit is out of your budget – you can consider the handheld HairMax Advanced 7 LaserComb or HairMax Ultima 12 LaserComb, in which we will compare and elaborate the differences of these products later in this review.


>> Check out Full Range of HairMax Laser Devices Product Series To Learn More




How Does HairMax LaserBand 82 Help You Regrow Hair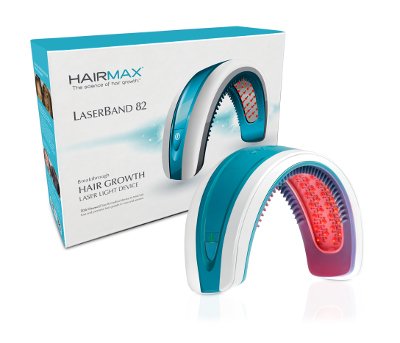 HairMax LaserBand, a variation among the HairMax laser devices for hair treatment, is a home-based beauty product that
stimulates new hair growth with its advanced laser technology
.
Approved by the FDA, HairMax LaserBand offers a safe hair loss treatment option for patients who cannot or may not want to undergo medical hair transplant surgery.

HairMax works through the process of Photo Biostimulation, using nourishing low level laser light energy to stimulate hair follicles at a cellular level to promote hair growth, reverse thinning, extend your hair's natural growth cycle and help your hair to grow fuller, denser, longer and stronger.

Hairmax LaserBand is a cordless unit with a plastic and curved headband-like device which has been embedded with 82-grade medical grade lasers. The shape of the product allows the users to put it on their head, and leave this to work automatically before this is moved to a different position on the scalp.

HairMax LaserBand uses its patented, soft hair parting teeth to part your hair and ensure light energy reaches your follicle, and therefore be a lot more effective compared to other devices. Therapeutic light energy is delivered directly to hair follicles through medical-grade lasers, stimulate the hair follicles to help you regrow hair fast.

Can be used as stand alone treatment or in conjunction with other hair loss treatments (eg. after hair transplant surgery) for additional benefits. Fine for all hair types, including permed or color-treated hair.
Watch the animation video below that illustrates how HairMax laser light treatment works to regrow hair.






HairMax Laserband Instructions Manual: How to Use
Every HairMax LaserBand 82 hair growth kit comes with a power cord, rechargeable battery, quick start guide, and user manual.
This hands-free hair growth laser device is very easy to use:
Step 1: Put the HairMax LaserBand 82 on your head, starting at the hairline.
( Note: Make sure both rows of teeth are touching your scalp )
Step 2: Keep the device in place for 30 seconds.
Step 3: Next, move the device to the middle of your head, keeping it in place for 30 seconds.
Step 4: Finally, gently glide the device to the back of the scalp and keep for 30 seconds.
Step 5: Repeat this treatment, 3 times a week.
Note: It is important to use the laser band on a clean scalp, because any buildup of gels, sprays, or oils can block the light from reaching your scalp.


In home and family talk show video below, Beauty expert Kym Douglas gives a close up look on this hair growth kit and how to use it, alongside the HairMax Laserband before and after comparison photos.



>> Visit HairMax Official Website Here To Learn More on HairMax LaserBand 82 Device


If you want more in-depth information, you can download the detailed HairMax Laserband manual here, and watch the demo video below that covers further details like charging of laserband, activation of the 30-seconds timer, easy cleaning of this laser device, etc.   






Latest HairMax LaserBand 82 vs 41 (The Predecessor)
Hairmax LaserBand 82 is the latest model, vs its predecessor HairMax Laserband 41.


Below is the HairMax LaserBand 41 and 82 comparison table, with reviews show this latest model is a clear upgrade compared to the previous old model. The key differences are:
Quantity of laser modules: The latest Hairmax LaserBand has 82 medical grade lasers, which can cover much larger scalp area by doubling the 41 lasers found in its predecessor LaserBand 41.
Treatment Time: Equipped with significantly more integrated laser modules than its predecessor, Hairmax LaserBand 82 only requires 90 seconds, 3x per week of treatment time versus 3 minutes, 3x per week for LaserBand 41.
Design: The latest Hairmax LaserBand 82 is designed by iconic Italian designer Pininfarina (who designed Ferraris), with its elegant appearance is far superior than its predecessor.
| HairMax Laser Device Name | HairMax 82 LaserBand | HairMax 41 LaserBand |
| --- | --- | --- |
| Quantity of Medical Grade Laser Modules | 82 | 41 |
| Treatment Time | 90 seconds, 3x per week | 3 minutes, 3x per week |
| Product Details | | |
HairMax LaserBand 82 Reviews: Does It Work?
We've done independent research, with actual customer reviews and forum feedback on HairMax LaserBand 82 are generally positive.
Below are the key pros and cons of this FDA-cleared laser hair growth kit, for your reference.


What People Like:

Effective and Value For Money, with the HairMax LaserBand 82 produced many positive results that helped address the users' hair loss / thinning issues, at a significant lower cost compared to hair transplant surgery.

Fast Treatment Time of 90 seconds, 3 times a week – combined with its convenience that user can use this medical laser device at home without time-consuming visits to the doctor (eg. first consultation, hair transplant surgery, follow-up visit, etc).

Safe and Drug-Free Treatment, because HairMax LaserBand offers hair loss remedy without possible complications of hair transplant surgery (such as risks of general anaesthesia and nerve damage as highlighted by Victoria State Department of Health & Human Services in Australia), or adverse sexual side effects of hair loss drugs as revealed by WebMD.

Easy To Use, as the laserband is hands free and lightweight, with the users just need to gently glide the device on the head during self-treatment.

5 Months Money Back Guarantee by the manufacturer gives customer extra peace of mind.


Below are examples of actual user reviews and results of HairMax LaserBand 82 device:
Anniemick commented: "I bought this as a Christmas gift to myself. I previously used the Laser Comb but found it took too long (even the 8 min version) to use as faithfully as I should. This LaserBand only takes 90 seconds and is less time than you'd expect. The results are phenomenal."

sunsuki said: "Pricey.. however for the short amount of time x3 week you will use it, there is no excuse not to. I have new growth all along my hair line where it was thinning before!"
What People Do Not Like:

Some people find the price is expensive when compare to other OTC options like hair loss shampoo and pills, as the HairMax LaserBand 82 device with advanced technology is a premium hair growth product that is not within everyone's budget.

The product can be returned within the 5 months guarantee period but less a 20% restocking fee of the purchase price per terms and condition. This has received some "complaint". Nonetheless, most customers welcome the 5 months guarantee period, while reckon to try HairMax laserband for 5 months at about USD $160 (i.e. 20% restocking fee of the $795 purchase price) as worst case scenario may seem steep to some but "that is not even enough to receive one hair treatment in a doctor's office".




Differences of HairMax LaserBand vs HairMax LaserCombs?
The laser based products of Hairmax have been designed for energizing and awakening dormant and weakened hair follicles and for reversing the thinning process of the hair and restoring its natural growth cycle.
Similar with the HairMax LaserBand, the Laser Combs are also based on the principle of low level laser therapy to promote hair growth in both male and female users.


All these HairMax laser devices help improve hair growth with a good combination of their patented hair parting teeth and laser light therapy:
The devices' outer edges include the specially-patented teeth which are responsible for parting the hair during the process of treatment, while they can maximize the amount of the laser light reaching the hair follicles and guarantees that more follicles will be stimulated.
This unique value proposition makes the HairMax laser devices stand out from the other hair growth laser products that are without the build-in feature to part the hair prior treatment, because our hair will naturally block the laser light from the scalp and reduce the positive hair growth results.

The comparison table below summarizes the key difference among HairMax LaserBand 82, Ultima 12 LaserComb, and Advanced 7 LaserComb.


HairMax Hair Growth Laser Device Name

HairMax 82 LaserBand

Ultima 12 LaserComb

Advanced 7 LaserComb

Product Image
Quantity of Medical Grade Laser Modules
82
12
7
Treatment Time
90 seconds, 3x per week
8 minutes, 3x per week
15 minutes, 3x per week
Product Design
Hands-Free HeadBand
Hand-Held Comb-type
Hand-Held Comb-type
Battery
Rechargable Battery
Charging Cradle
4 AA Batteries
Shipping Weight
2.5 pounds
3.4 pounds
1.6 pounds
Latest Price
Product Details
Warranty / Guarantee
5 Month Money Back Guarantee, 2 Year Warranty.
As shown, below are several key aspects that make the Hairmax Laserband different from the LaserComb products:
Quantity of laser modules: The Hairmax LaserBand has 82 medical grade lasers, which is around 6 to 11 times more than the laser modules of Ultima 12 LaserComb and Advanced 7 LaserComb. As such, Hairmax LaserBand can cover much larger scalp area for faster results.

Treatment Time is much shorter with Hairmax LaserBand 82 which only requires 90 seconds, 3x per week. In comparison, HairMax lasercombs require 8 minutes to 15 minutes per treatment, 3x per week.

Hands-Free vs HandHeld design is another key difference, in which you can just leave the HairMax LaserBand on your head during treatment, while users would need to hold the LaserCombs to comb slowly over scalp during treatment.
HairMax LaserBand 82 Reviews: The Verdict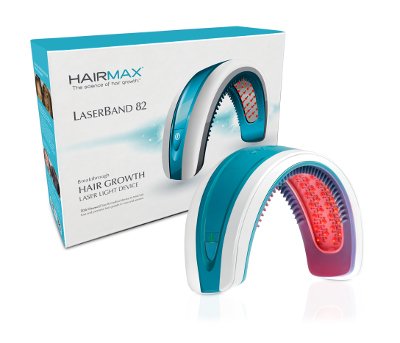 The HairMax LaserBand 82 is an at-home laser phototherapy device designed to help to promote hair growth in men and women with early-to-moderate stage hereditary hair loss, using 82 lasers to bathe the scalp in gentle therapeutic light.
Possessing an unique combination of advanced laser technology and patented soft hair parting teeth, the HairMax LaserBand is a FDA-cleared and clinically tested premium hair growth product with proven results that can help you:
Stimulate hair growth,
Increase density and fullness,
Reverse the thinning process, and
Revitalize damaged hair.
While this product is not available for sale in stores and retailers like Walmart, Walgreens, CVS, eBay, and Boots UK –
It is available to buy online via HairMax Official Website, with 5 months money back guarantee.

>> Visit HairMax Official Website Here For Genuine Product at Best Price <<