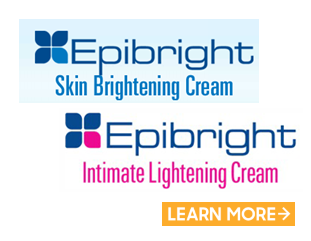 Epibright Skin Brightening cream and Epibright Intimate Skin Lightening cream by Sisquoc Healthcare are formulated to reduce dark areas / spots on skin for long-term radiance and smoothly balanced skin tones.
But do their ingredients really work to produce the desired results?
We comprehensively review the medical research and clinical results on the efficacy of Epibright ingredients as skin whitening solution.

>> Check out full product details of Epibright Skin Brightening Creams



Epibright Ingredient #1: Kojic Acid – The Natural Antioxidant
Kojic acid is a fine, white powdery substance composed of tiny crystals obtained from mushroom species that are native to Japan, especially Aspergillus oryzae which is commonly known as Koji. This substance has been traditionally used in the production of Japanese foods like miso, soy sauce and sake.
Kojic acid is a natural acid that functions as an antioxidant and skin-bleaching agent in cosmetic preparations, in which this whitening agent is effective in stopping the production of melanin (the primary pigment in skin) which is the major cause of skin darkening.


Studies by scientists and dermatologists found that Kojic acid can serve as an effective skin lightening agent that inhibits the rate-limiting, essential enzyme in the biosynthesis of the skin pigment melanin:
In video below, Dr. Ellen Marmur and Dr. Oz explain how Kojic acid can help to reduce the appearance of brown spots on our skin.
Epibright Cream Ingredient #2: Alpha-Arbutin
Alpha-Arbutin is a water soluble and natural biosynthetic active ingredient isolated from the leaves of cranberry plant, some mushrooms, and most types of pears.
The Alpha-Arbutin is present in two unique isomers (alpha-arbutin and beta-arbutin), with alpha isomer is particularly effective in skin lightening, with Arbutin's hydroquinone content gives it melanin-inhibiting properties.

Research published by the Seoul National University College of Medicine in Korea indicates Alpha-Arbutin helps in pigment suppression by 43.5%, after 15 days of use.
Study conducted by researchers of Ezaki Glico Co. on 60 human volunteers shows Alpha-Arbutin 1% has better skin-lightening efficacy than the competitive ingredients (such as Arbutin and Hydroquinone) within 1 month, with effects of Alpha-Arbutin were sustained during the study period of 3 months.
The US National Library of Medicine has also reported that Alpha-Arbutin helps in pigment suppression by 40%, and concluded this is an effective and safe ingredient for human skin-lightening, as shown below.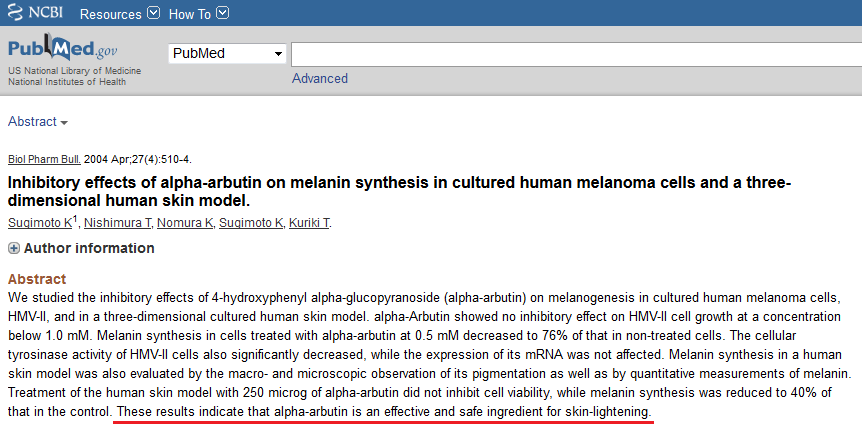 >> Learn More about How Epibright Ingredients Work as Skin Brightening Solution



Epibright Ingredients #3: Mulberry and Bearberry
Mulberry is a nutritious fruit that grows in Morus Alba tree. It is a native plant of China and has long been used in preparing various types of medicines.
According to PracticeUpdate, Mulberry helps in restricting the formation of tyrosinate (a major enzyme which triggers production of melanin within the skin), in which suppressing tyrosinase activity to achieve skin brightening is a well-established method in dermatologic practice.
Study published by the renowned ResearchGate revealed 4% concentrated Mumberry fruit extract was applied on the cheeks of 11 human volunteers for a period of 8 weeks, and found that the ointment was effective in reducing the melanin content and erythema, with mulberry extract is safe to use and will not cause any irritation.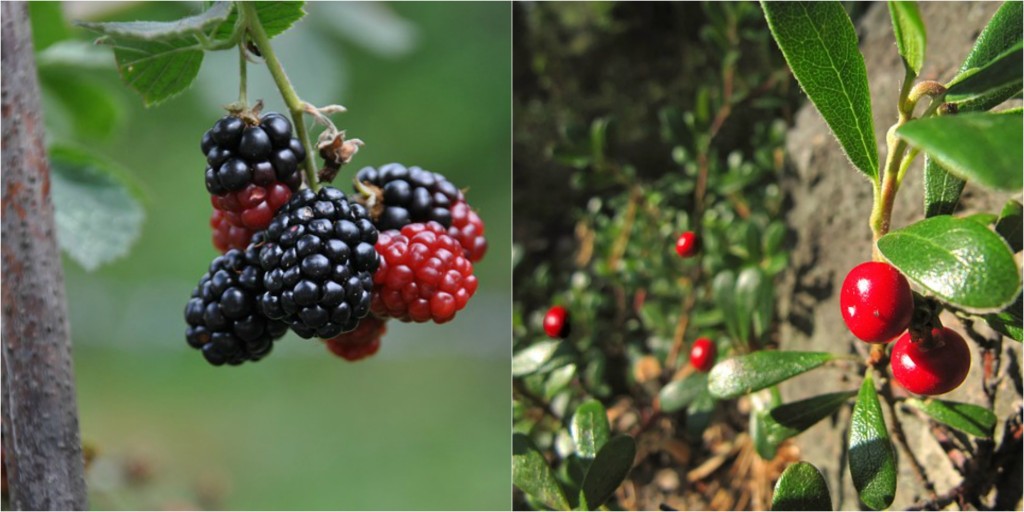 On the other hand, bearberry is a low growing evergreen plant which is generally found in the northern region of Europe, Asia and North America.
Bearberry, also known as Morus alba, is rich in Arbutin which is effective in blocking the development of age spots and hand liver spots, with research conducted on 80 Chinese women shows the Bearberry extract produced favorable results in skin lightening.
Researchers in Kyunghee University of Korea revealed that bearberry possess naturally occurring component mulberroside F with skin whitening effect that inhibits Melanin biosynthesis, as confirmed in clinical study.
>> Check out Epibright Skin Brightening Cream Before and After Photo Comparison




Epibright Intimate Lightening vs Skin Brightening Cream
Manufactured in the United States just outside of Los Angeles, Epibright by Sisquoc Healthcare offers 2 topical skin care solutions:


(1) Epibright Skin Brightening Cream – Facial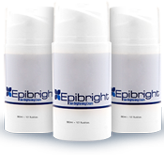 Formulated to maintain the radiance and health of Facial Skin.
Diminish dark spots, discolorations, blotchy and uneven areas, patches of brown, excessive freckling, skin tone inconsistencies.
Primary skin lightening agents: Kojic acid, Alpha arbutin.
Other natural ingredients: Mulberry and bearberry extracts, Melissa officinalis balm, licorice extracts, etc.
(2) Epibright Intimate Lightening Cream – Intimate Body Areas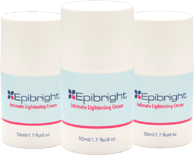 Developed specifically for the Intimate Body Areas: Lighten anal and vaginal skin, nipples, underarms, penis and scrotum.
Reduce dark areas and spots on intimate skin.
Primary skin lightening agents: Kojic acid, Alpha arbutin.
Other natural ingredients: Mulberry and bearberry extracts, Melissa officinalis balm, licorice extracts, etc. No harsh chemicals or perfumes.
Epibright Skin Bleaching Creams Direction: Things To Know
Epibright creams are mostly organic products with soothing herbal extracts.
Epibright does not contain hydroquinone and is safe to use as a daily skin brightening cream.
Epibright should always be applied to recently washed and gently dried skin for maximum effect. Gently apply Epibright to the areas meant for treatment until fully absorbed.
Epibright works for all skin types and users with darker skin tones should expect to treat for slightly longer periods of time to achieve desired results.
Epibright Creams Review: The Verdict – Where To Buy
Epibright Skin Brightening cream and Epibright Intimate Skin Lightening cream by Sisquoc Healthcare are manufactured in the United States, with their key ingredients are safe and effective bleaching agents – as proven by medical studies.
While not available for sale in stores and retailers like Walmart, Walgreens, and CVS –
Epibright creams can only be purchased online at Epibright Official Website here.
The manufacturer is backing up their confidence on these products by offering risk-free 100% money back guarantee within 60 days of purchase.


>> Visit Epibright Official Website for Genuine Products at Best Price with 60-Days Money Back Guarantee