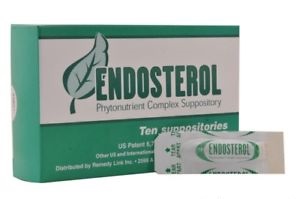 Endosterol phytonutrient complex suppository by Balanced Health Today is a natural prostate remedy formulated to support improved health.
But do Endosterol suppositories really work to provide prostate benefits, without side effects?
This post comprehensively reviews through its ingredients with medical research, the instructions and recommended dosage, where to buy, etc.

>> Check out full product details of Endosterol prostate therapy 



Prostate Health and Prostate Cancer In a Glance
We start with this brief video that provides good overview of prostate health, including illustration on prostate enlargement, for our understanding.
According to the US Centers for Disease Control and Prevention (CDC), Prostate Cancer is the most common cancer among men in the United States, with year 2012 statistics show:

177,489 men in the United States were diagnosed with prostate cancer,
27,244 men in the United States died from prostate cancer.
Risk factors of prostate cancer include age, family history, and race.

Men in the Americas Region had the highest rates of prostate cancer, followed by the Europe Region, says the World Health Organization (WHO).

Other prostate health issues include:

Enlarged Prostate, often called Benign Prostatic Hyperplasia (BPH), happens to almost all men as they age and cause trouble starting a stream of urine, leaking, or dribbling. An enlarged prostate puts pressure on the urethra, either blocking urine flow or increasing it.
Prostatitis, with acute prostatitis often caused by bacteria in the urinary tract entering the prostate, can cause burning during urination, and pain in the abdomen or groin.

The renowned osteopathic physician Dr Joseph Mercola says, "Aging-induced testosterone decline is associated with the overactivity of an enzyme called 5-alpha reductase, which converts testosterone into dihydrotestosterone (DHT). This process simultaneously decreases the amount of testosterone in men, putting them at risk for prostate enlargement and cancer".
According to Cancer Research UK, it is possible for men with BPH to go on to develop prostate cancer – but there is no clear evidence to suggest that having BPH leads to, or increases, the risk of prostate cancer.
Endosterol Ingredients Review: How Do They Help?
Seeking to allay skepticism, we've comprehensively reviewed the key ingredients of Endosterol suppositories, including what are the medical research results on Endosterol ingredients in term of their effectiveness to help improve our prostate health, and how do they work.



Endosterol Ingredient #1: Beta Sitosterol
Beta Sitosterol, also referred as plant sterol ester is an unique substance found in vegetables, fruits seeds and nuts. It is popularly used in preparation of medicines to treat high cholesterol level, heart disease, and relieve symptoms of benign prostatic hyperplasia (BPH).
According to the University of Maryland Medical Center, Beta-sitosterol has been studied for BPH and found to significantly improve urinary flow and decrease the amount of urine left in the bladder:
Report published in the U.S. National Library of Medicine revealed 4 trials conducted on a total of 519 men with BPH, and results including International Prostate Symptom Score (IPSS) and the weighted mean difference (WMD) show Beta Sitosterol improves urological symptoms and flow measures.

Based on a study on 117 patients with enlarged prostate, Ruhr-University of Bochum in Germany concluded the beneficial effects of beta-sitosterol treatment recorded in the 6-month double-blind trial were maintained for 18 months, with positive results on prostate health indicators like the maximum urinary flow rate (Qmax) and postvoid residual urine volume (PVR).

In another study conducted among 200 men, it was found that the person who had consumed 20mg of Beta Sitosterol daily for 6 months experienced improvement in the flow rate of urine (15.2 [5.7] mL/s from 9.9 [2.5] mL/s) and decrease of mean residual urinary volume (30.4 [39.9] mL from 65.8 [20.8] mL).
In video below, Dr.James Meschino gives excellent overview of Beta Sitosterol and how it works to help benefit men over 40 to improve prostate health.


>> Learn more on full product details of Endosterol phytonutrient complex suppository



Endosterol Ingredient #2: Saw Palmetto
Saw palmetto, also known as Serenoa repens, is a low growing palm like plant which produces tiny flowers and small berries.
According to American Academy of Family Physicians, saw palmetto is used in 50% of treatments for BPH in Italy and in 90% of such treatments in Germany –
while more than two million American men use saw palmetto for enlarged prostate, and it is recommended as an alternative treatment by the U.S. Food and Drug Administration (FDA), says Mayo Clinic.
Research published in PubMed revealed 21 studies conducted among 3139 men with duration of 4 to 48 weeks, with results showed:
Saw Palmetto improved urinary symptom scores, symptoms, and flow measures.
For instance, saw palmetto reduced nocturia (defined as the need to wake and pass urine at night) by 25% compared with placebo.
Saw palmetto is as effective as the hormonal agent finasteride when used to treat bladder problems, with fewer adverse treatment events.
Learn more about Saw Palmetto in video below.
Endosterol Ingredient #3: Pumpkin Seed
Pumpkin seed, also referred as Pepita is the edible seed of pumpkin which is rich in mineral zinc. The World Health Organization recommends people to have lots of pumpkin seed in order to obtain the vital mineral zinc.
According to eMedicineHealth, the components in pumpkin seed cause an increase in urination (diuretic effect) which helps relieve bladder discomfort.
The U.S. National Library of Medicine revealed a study conducted by Korean researchers for more than 12 months among 47 benign prostatic hyperplasia patients, and it was found that patients who were given 320 mg/day pumpkin seed oil experienced decreased level of prostate symptom within 3 months.

In reports published in "Urologia Internationalis"," Dr. Yuh-Shyan Tsai observed that administration of pumpkin seed oil to rats that were chemically or hormonally induced to undergo increased hyperplasia or excessive prostate growth, significantly decreased the observed prostate size in the rats.

A 12 month clinical study made by Dr. Heeok Hong which was published in 2009 edition of Nutrition Research and Practice highlights that men who were given required dosage of pumpkin seed oil experienced decrease in prostate disease symptoms.
Endosterol Ingredient #4: Dandelion
Dandelion, also referred as Taraxacum is a large genus of flowering plant which belongs to the Asteraceae family. This herb is popularly used in Traditional Chinese Medicine, Native American therapies and Eastern Medicine.
As shown below, a 2008 clinical study published in The International Journal of Oncology highlighted that Dandelion leaf shows the capability to kill and decrease prostate cancer cells.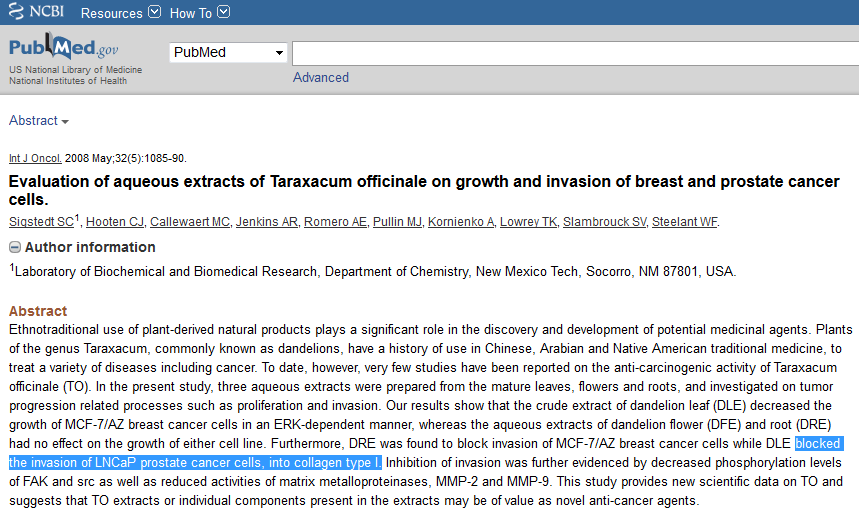 Dr. Steve Rallis further shares the insights on benefits of Dandelion in video below.
Other Endosterol Ingredients That Help Improve Prostate Health
Ellagic acid is a naturally occurring phenol antioxidant which is found in fruits like walnuts, strawberries, blackberries, pomegranate and raspberries. Clinical study conducted by King Khalid University of Saudi Arabia and Chiang Mai University of Thailand show Ellagic acid significantly inhibit prostate cancer cell growth.

Quercetin is a plant flavonoid and antioxidant that helps fight inflammation, while reduce pain and symptoms of chronic nonbacterial prostatitis, says Penn State Hershey Medical Center.
>> Check out full Endosterol ingredients list and how they help improve Prostate Health



Endosterol Side Effects Review: Recommended Dosage?
Endosterol ingredients are natural and generally safe, with side effects are rare but possible:
While Kondas et al. reported that the average Maximal Urinary Flow rate (MFR) of patients was increased from 10.36 ml/s to 14.44 ml/s without any adverse effects after 12 months of treatment with Saw Palmetto, the potential side effect is increased sex drive with saw Palmetto has also been used to increase sperm production and boost libido, says University of Maryland Medical Center

According to WebMD, Beta Sitosterol is safe for most people when taken by mouth, whilst it can cause some side effects such as nausea, indigestion, gas, or constipation.

Dr Joseph Mercola says research show pumpkin seed oil has been found to worked as well as the anti-inflammatory drug indomethacin in treating arthritis, but without the side effects. Nonetheless, certified nutrition specialist Dr. Josh Axe did point out that the antioxidant properties of pumpkin seed can serve to lower blood pressure, as such you should consult health care provider before using this in conjunction with hypertension medication to discuss risks and potential complications.

Just like any dietary supplement, it is important to follow the manufacturer's instruction to avoid any adverse effects due to overdose.
As indicated on the product package label, the Endosterol recommended use is as follow:
For rectal use only. Use following a bowel movement. Refrigerate before using. To remove suppository, tear the plastic shell lengthwise beginning at the V shaped cut at the pointed end of the suppository. Apply a light coating of Vaseline to the suppository before insertion. Insert suppository past sphincter muscle. Try to wait 15 to 20 minutes before another bowel movement. Broken suppositories may be reheated in their shells in a ziplock bag in warm water until melted and then reformed in refrigerator. Occasional air bubbles in suppository are normal and do not indicate a loss of product. Use every third day or as recommended by a healthcare professional.
Endosterol Suppositories Reviews: The Verdict
Endosterol phytonutrient complex suppository is dietary supplement formulated to help support and maintain prostate health and function.
Endosterol contains all natural ingredients including Beta Sitosterol, saw palmetto, pumpkin seed, and dandelion that show clinically proven efficacy in promoting prostate health, as reviewed above.
While Endosterol suppositories are not available for sale at retailers and stores like Walmart, Walgreens, CVS, Amazon and Boots –
This product is available to buy online via Endosterol Official Website, regardless if you are in UK, Canada, or Australia.

>> Visit Endosterol Official Website here For Genuine Product at Best Price



Product

Endosterol Phytonutrient Suppository

Used For:
Support prostate health, enhance potency.
Ingredients Profile:
All natural ingredients: Beta Sitosterol, saw palmetto, pumpkin seed, dandelion, etc.
Latest Price: