Dealing with itchy hives rash can be a complete nightmare.
While using Zyrtec for hives is no doubt a treatment option –
Does it really work well, or it will just bring side effects like making you drowsy?
>> Check out full product details of Zyrtec / Cetirizine Tablets to Learn More



Cetirizine For Hives: How Does Antihistamine Work?
Hives, also called Urticaria, is a common allergic disorder with symptoms of red, itchy, lumpy skin rash that can develop anywhere on the body – including our face, hands, and legs.
This skin condition is a type of allergy resulted from the release of a natural chemical in our body called Histamine, which can produce symptoms of itching, sneezing, runny nose, and watery eyes. The cause of this histamine release is often unknown, but common causes are medications, foods, and infestations.


Zyrtec (Cetirizine) is an antihistamine that works by blocking Histamine that our body makes during an allergic reaction. It helps to reduce the effects of natural chemical histamine in our body, and it is used to treat allergy symptoms such as itching and swelling caused by hives.
However, Cetirizine (Zyrtec) will not prevent hives or an allergic skin reaction from occurring.
Based on clinical studies published by the UK National Institute for Health and Care Excellence:
Cetirizine 20 mg daily may improve weals and itching in adults with severe chronic urticaria refractory to standard doses of antihistamines.
Cetirizine 20 mg appears to be well tolerated, and the benefits may outweigh the risks for some people whose quality of life is significantly impaired by the hives condition.
However, symptoms remain in a proportion of people and the studies have its limitations.
Is Cetirizine (Zyrtec) Available Over The Counter?
Cetirizine is an allergy medication that you can also buy over-the-counter without doctor prescription required, in which Cetirizine is available under brand names of Zyrtec, Zyrtec Allergy, Zyrtec Hives Relief.
This medication can come in the form of tablet, a chewable tablet, an extended release tablet, and a syrup (liquid) to take by mouth orally:
Adults and children 6 years and older and take the capsules and tablets.
Adults and children 2 years and older can take the syrup, which is fruit flavored.
Doctor may recommend a 5-mg dose once or twice per day if your allergies are mild.
The usual dosage for adults below 65 years old is one 10-mg dose per day.
It is usually taken once a day with or without food.
Take cetirizine at around the same time every day.
You should not take more than 10 mg in 24 hours as max dose.
Avoid alcohol as it can increase the side effects of Cetirizine such as dizziness.



Over-the-counter oral antihistamine like Zyrtec (cetirizine) can bring down swelling and reduce itching caused by hives rash. Generally, cetirizine is a safe and effective medication, however there are certain warnings and precautions that you need to be know when taking this drug:
Zyrtec can cause side effects like drowsiness. As it can make you very sleepy, do not drive a car or operate potentially dangerous machinery after taking this mediation.
Stomach pain and vomiting may also occur, especially in children.
Other possible adverse effects include dizziness, fatigue, dry mouth, and headache.
If your hives symptoms do not improve after 3 days of treatment, or if your hives last more than 6 weeks, then seek medical help immediately.

In case you are looking for natural hives relief as alternative, or you are allergic to antihistamine like Zyrtec that contains Cetirizine hydrochloride as its active ingredient –
One hives treatment approach that has gained popularity over the years is homeopathic remedy, with Homeopathy is a medical system of alternative medicine that was founded in 1796 by Samuel Hahnemann in Germany and has been widely practiced nowadays, based on the philosophy that body has the ability to heal itself.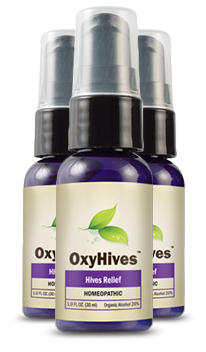 A leading over the counter homeopathic product for hives treatment is Oxyhives, which contains all-natural active ingredients like Apis Mellifera (honey bee) and Arnica Montana flower that have been used for decades as natural medication for itchy hives relief.
Oxyhives comes as a sublingual spray that once sprayed under the tongue, the natural ingredients quickly enters the bloodstream where it promptly begins acting on the body to provide quick relief on intolerable hives symptoms – in a much faster way compared to topical ointment and oral pills.
>> Check out Oxyhives natural relief spray product review
>> Visit Oxyhives official website to learn more




User Reviews: Does Zyrtec Work Without Side Effects?
While Zyrtec is a common antihistamine prescribed by doctors for hives patients with proven results, there were cases that this medication did not work, with hives not going away with Zyrtec. Actual examples of user reviews and forum feedback on Zyrtec for hives are as below:

Joanne2001 feedback via HealingWells forum: "I have had chronic urticaria for 12 years now. My hives showed up a month and half after my third daughter was born… I've been taking Zyrtec everyday which controls it for 24 hours. If I forget to take a pill, I will start to itch slowing all over by body beginning in random spots from my feet to my head… Once I take a Zyrtec it takes about 20 minutes to control it and feel back to normal."

love_eyeore shared experience via WebMD Forum: "I have chronic hives as well and it took some working to get them undercontrol. I tried Claritin and Benadryl – nothing, then switched to zyrtec which worked for about a month, then back."

R. of Bainbridge from Georgia commneted via ConsumerAffairs forum: "I was prescribed Cetirizine/Zyrtec about a month ago by going to ER because I had an allergic reaction from something. I started the medicine and seems like when I take it and wake up the next day I am full of hives from head to toe. My face and eyes are swollen all the time and the hives are humongous. The itching redness from them are unbelievable. So I went to my primary and he told me to take them for a week and if the issue still there he will refer me to an allergist. Well I flushed them because those pills were causing me hives all over my body."

In video below, user feedback that Zyrtec withdrawal by stopping Zyrtec has caused her crazy side effects.
Zyrtec for Hives Treatment Review: The Verdict
Cetirizine is a common antihistamine that doctor prescribes for patients to relieve hives symptoms like swelling and itchiness.
While this medication can be provided as a standalone prescription or together with other drugs to treat allergic reaction, Cetirizine (under brand names like Zyrtec drugs) is also available for sale over-the-counter without doctor prescription required.
This drug has shown proven results for hives in most of the cases, nonetheless there are patients who experienced that Zyrtec does not work to relieve their hives symptoms, while it must be noted you can get drowsy with this medication as side effects – so ensure you do not drive a vehicle after taking this medicine.
In case you are allergic to antihistamine or you are looking for fast natural hives relief, an option is homeopathic remedy like Oxyhives sublingual spray in which you can learn more here.